There may be no better way to describe Conor McGregor than his nickname: 'The Notorious.' McGregor's constantly making headlines for his performance inside the Octagon and his trash talk outside the Octagon. With the UFC 3 Champions Edition pre-order offer, get Conor McGregor and a signature move to take out your opponents in UFC 3 Ultimate Team.*
Find out more about The Notorious and his fighting career below.
Bio
Nickname: The Notorious
Record: 21-3-0
Style: Boxing
Age: 29
Height: 5'9" (175 cm)
Weight: 155 lbs (70 kg)
Birthplace: Dublin, Ireland
ABOUT CONOR MCGREGOR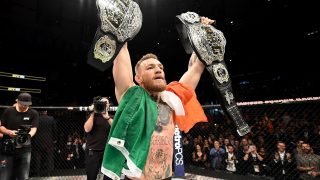 There may be no better way to describe Conor McGregor than his nickname: 'The Notorious.' With 13 first-round finishes and 18 wins by knockout to his name, Conor McGregor always delivers an action-packed fight, and holds the UFC's record for most Performance of the Night awards.
In the Octagon, McGregor's ability to land a devastating combination of punches is unrivaled. His raw power has led to him win an incredible 18 of his 21 professional MMA victories by knockout, with 13 of those finishing in the first round. McGregor's explosive power and knockout ability is always on display as he ranks third in significant strikes landed per minute with 5.82.
One of McGregor's most notorious fights was his Featherweight title fight against Jose Aldo. All it took was one punch from McGregor to knock Aldo out in just 13 seconds, crowning him Featherweight Champion in 2015.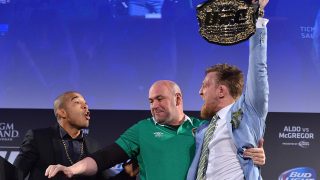 When he's not busy landing knockout blows, McGregor's making headlines for promoting his fights by trash talking his opposition on social media. From taunting future opponents to challenging the world's best boxer, there is never a dull moment in Conor McGregor's career.
One of the best pound-for-pound fighters to ever fight in the UFC, McGregor is an icon both inside and outside the Octagon. Pre-order UFC 3 Champions Edition to get Conor McGregor and a signature move to take out your opponents in UFC 3 Ultimate Team.*
View the other Champion fighters available for the pre-order offer.
*Conditions and restrictions apply. See https://www.ea.com/games/ufc/ufc-3/game-and-offer-disclaimers for details.