Joanna Jedrzejczyk is one of the deadliest and most consistent strikers in UFC history and with the UFC 3 Champions Edition pre-order offer, get Joanna Jedrzejczyk and a signature move to take out your opponents in UFC 3 Ultimate Team.*
Find out more about Joanna Jedrzejczyk and her fighting career below.
Bio
Nickname: Joanna Champion
Record: 14-0-0
Fighting Style: Muay Thai
Age: 30
Height: 5'6" (167 cm)
Weight: 115 lbs (52 kg)
Birthplace: Olsztyn, Poland
ABOUT JOANNA JEDRZEJCZYK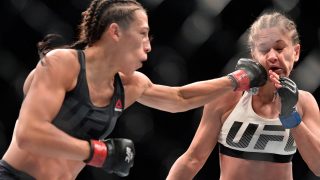 Joanna Jedrzejczyk is currently the best pound-for-pound female fighter in the UFC and perhaps in UFC history. Known for her powerful-yet-precise striking ability, Jedrzejczyk employs a sprawl-and-brawl technique that allows her to utilize her Muay Thai kickboxing experience to overpower her opponents.
Jedrzejczyk's ability to land significant strikes is unmatched, and with 971, she's ranked first amongst all UFC fighters, including Georges St-Pierre (2nd) and Demetrious Johnson (4th). Also, Jedrzejczyk holds the record for the most significant strikes landed in a title bout with 225, which is 5 more than her previous best, and an incredible 49 more than the closest UFC fighter.
Jedrzejczyk started her mixed martial arts career when she discovered Muay Thai as a teenager. During her road to the UFC, Joanna competed in and won multiple amateur and professional Muay Thai championships.
Her experience in Muay Thai championship bouts allowed her to quickly propel to UFC stardom. Within a year of her UFC debut, Jedrzejczyk became the first female European UFC titleholder after she defeated Carla Esparza by knockout to claim the UFC Women's Strawweight Championship.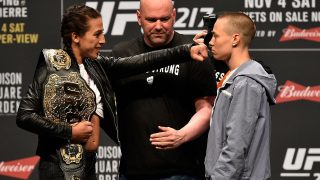 Nicknamed 'Joanna Champion' by fans for her perfect UFC record, Jedrzejczyk is widely regarded as one of the best fundamental fighters in the UFC. Outside the Octagon, Joanna actively shares her training routine and fight preparation on social media, while mixing in some trash talk for her upcoming opponents.
Pre-order UFC 3 Champions Edition to get Joanna Jedrzejczyk and a signature move to take out your opponents in UFC 3 Ultimate Team.*
View the other Champion fighters available for the pre-order offer.
*Conditions and restrictions apply. See https://www.ea.com/games/ufc/ufc-3/game-and-offer-disclaimers for details.