&nbsp
The UFC (Ultimate Fighting Championship) is the largest mixed martial arts (MMA) organization in the world. The UFC showcases the best international fighters using a variety of martial arts styles and disciplines.
What is EA SPORTS UFC 3?
EA SPORTS UFC 3 is the latest title in the UFC game series. It lets you conquer the world of MMA with the most advanced gameplay in franchise history. Experience cutting-edge motion technology, fight friends in a variety of multiplayer modes, play online to test your skills, or become the G.O.A.T. in our updated career mode.
How Long Does a UFC Fight Last?
A standard UFC fight consists of three five-minute rounds. Title fights, however, are extended to five five-minute rounds. A referee can stop a fight if a fighter taps out due to a submission, when a fighter is knocked out, or when a fighter is no longer intelligently defending himself.
In EA SPORTS UFC 3, the default length of a round is five minutes, but players can change the settings to make rounds shorter.
What Are the Different UFC Weight Classes?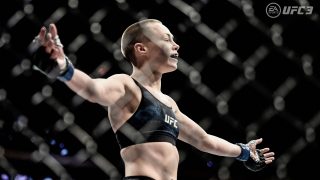 Even though the official rules of UFC designate 14 weight classes, only ten different classes are available inEA SPORTS UFC3: eight in the men's division, and two in the women's division.
Each weight refers to the upper limit for each division.
Men's Division classes:
Flyweight– 125 lbs.
Bantamweight– 135 lbs.
Featherweight– 145 lbs.
Lightweight– 155 lbs.
Welterweight– 170 lbs.
Middleweight– 185 lbs.
Light Heavyweight– 205 lbs.
Heavyweight– Anything above 206 lbs.
Women's Division classes:
Women's Strawweight– 115 lbs.
Women's Bantamweight– 135 lbs.
How Are UFC Fights Judged?
In the UFC, three judges evaluate each fight from a different viewpoint of the ring and score each fighter with up to ten points per round. A fighter must get ten points and his opponent must get less than ten in order to win the round.
Judges are charged with evaluating a fighter's performance with special attention to these areas: striking, grappling, control of the ring/fighting area, aggressiveness, and defense. The judges must also consider where the majority of the fight took place; if the fighters spent most of the time on the floor of the ring, grappling technique is weighted higher. If both fighters stayed on their feet for most of the round, the quantity and quality of strikes are of a higher priority.
EA SPORTS UFC 3 judging criteria has been updated to reflect the latest Unified Rules of UFC.
What Styles of Martial Arts Are Included In MMA and the UFC?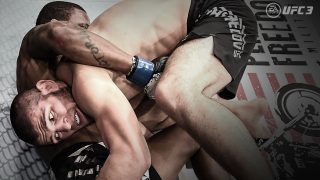 MMA is a blend of several traditional martial arts styles that include various striking, grappling, and submission wrestling techniques. Some of the most notable stylistic influences include Boxing, Kickboxing, Tae Kwon Do, Freestyle Wrestling, Brazlian Jiu-Jitsu, and Judo.
Each of these arts has specific advantages and drawbacks. For example, Boxing lacks an effective counter to a leg kick, and Muay Thai is poor at defending takedowns due to the static nature of its stance. The best MMA fighters glean the most useful parts from the various disciplines and blend them into the ideal style for the sport.
The advanced technology behind EA SPORTS UFC 3 lets players customize their play style and choose a fighter with attributes that suit that style best.
What Are Some Winning UFC Strategies?
Sprawl-and-Brawl: An effective sprawl-and-brawler tends to stay on his feet during a fight and use a specific technique called "sprawling" to avoid ground fighting and takedowns.
Ground-and-Pound: One of the most vicious types of UFC fighter, a ground-and-pounder typically attempts to put an opponent on their back using a takedown, get into a dominant grappling position, and then strike the opponent.
Submission-Seeking: A submission artist takes opponents to the ground using a takedown or throw, then attempt to apply a submission hold that forces the opponent to tap out.
Clinch-Fighting: The namesake of this style, the clinch hold, is used to keep opponents from getting into a good striking position. Once they've placed an opponent in a hold, clinch fighters then attempt specific types of takedowns or strikes within the hold using their knees, elbows, stomps, or punches.
Find out more about EA SPORTS UFC 3 and check out the new features.
Plus, follow us on Facebook, Twitter, and Instagram to stay up to date on all things EA SPORTS UFC 3.