Breaking out of prison is messy, and you're going to step on some toes on your mad dash to freedom. For example, once you've made your grand escape, you'll have to snatch supplies from a sweet (and armed) elderly couple's house while they're distracted. Not a nice thing to do, but you can make it up to them: A Way Out gives you all kinds of options for helping around the house while they're gone, all with the press of a button.
Look around and do a few of the good deeds below to clear your guilty conscience:
Make Sure Their Breakfast Doesn't Burn
They were in such a hurry to get where they were going that they left their breakfast cooking on the stove. Head to the kitchen and keep an eye on it for them.
Do the Dishes
They haven't even had a chance to clean up yet! Once you've given up on breakfast, work on the dishes. But be warned – this task can go on forever, just like in real life.

Check That Everything in the Fridge is Fresh
It isn't, and you can't do anything about it, but at least you're concerned for their wellbeing.
Order Them a Pizza
The fridge situation is dire, so have Leo jump on the phone. After a few prank calls, he'll order the old couple a well-deserved pizza. Out of the goodness of his heart.

Start a Fire in the Fireplace
Have you ever tried stoking a fire? One you didn't want to get out of control for criminal reasons? It's hard. Throw some logs on the fire in the living room and tend to them so the place is comfy-cozy when the couple returns. Who cares if it's the middle of summer out there – it's a nice gesture.

Clean Up the Painting
This one isn't an option until Leo draws on the painting upstairs, but once he does, Vincent can clean up the graffiti. What a stand-up guy!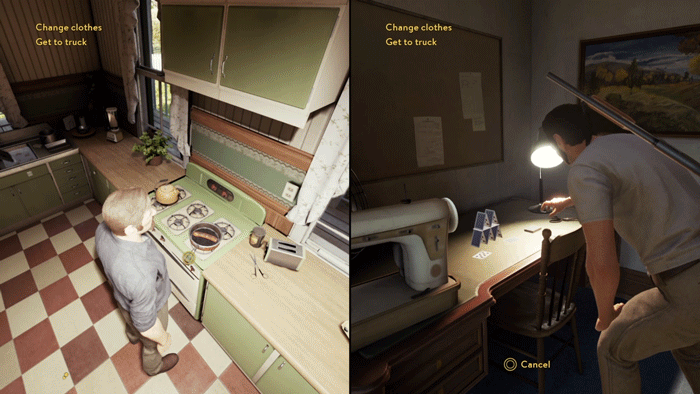 Try to Build Them a Nice House of Cards
Up in the workroom, there's a small house of cards you can add a few more layers to. Neither Leo nor Vincent are very good at it, but at least you can say you tried.

Get the Windmill Going
There's a windpump (a windmill used to pump water) on the property near the barn. Climb up to the blades and give them a good spin to get it going. That is . . . actually a pretty useful thing to do. Good for you. Spin it hard enough and you'll get a trophy for your efforts.

Make Sure All Their Stuff Is in Working Order
And there are lots of items that need checking: the sewing machine in the bedroom, instruments in the living room, some fancy hats in the upstairs hall, a radio in the sitting room, the phone in the entryway – test them all out to check they're in tip-top shape. Especially the phone. They're probably going to need that later.

Play Them Some Nice Music
Remember those instruments? Jump on the piano and the banjo and play a lovely duet via Banjo Hero. Maybe the old couple will hear it, wherever they are, and it'll put a song in their heart. Also, some panic.
Fix Up Their Truck
The old truck in the storage shed has seen better days, but you have all the tools you need to fix it. Pop on a new tire, lift it off its support blocks, and give the battery some juice, so their baby is good to go.

Then steal it. Hey, it's the thought that counts.

-Ashley Reed (Follow Ashley on Twitter @ashsmashreed)
Get ready to bust out – A Way Out is available now on PlayStation 4, Xbox One, and Origin for PC.
Sign up today to receive the latest A Way Out and EA Originals news, updates, behind-the-scenes content, exclusive offers, and more (including other EA news, products, events, and promotions) by email.