We all love video games, but some just love them more than others. In this series, we'll be highlighting some of our most passionate fans from around the world.
Canadian-based YouTuber "AR12Gaming" (Nick Andrew) is a longtime fan of Need for Speed, and dreamt of working for EA since he was in the 4th grade.   
How did you get started streaming and creating content?
I was always into creating videos with funny pictures. As the story goes, back in 2009 (and not wanting to do homework) while browsing the internet I came across this website called YouTube. I saw people creating crazy content online, everything from a dude putting his hands into a toaster, to the RoosterTeeth guys producing gaming videos. I said, "I like games, and I like entertaining people, I could do something like this!" so I did. 
Surprised that a game had a feature that I really didn't expect to see.
What does your community mean to you?
As cliché as it may sound, everything. Without the community, I wouldn't be here typing this right now, making videos for a living, and traveling across the world. I would have missed out on so many incredible friendships along the way. I couldn't even begin to imagine what my life would be like without the community.
What are your favorite aspects of NFS?
I'm the type of guy who likes to take a car, build it up, and transform it into something new. Need for Speed 2015 was perfect to build cars with crazy body mods, and awesome paints made by the community. Just cruising down the road in a crazy looking car is one of my favorite aspects for sure. 
My Subaru STI and I in melting snow, leaving the car very blue, and very wet.
Take us through a typical day for you - what are some of the things you do every day?
Most people think I just play games all day and that's it, but there is so much more to it than that. I'll usually get up around 8am, check my emails, make sure that AR12Gaming.com hasn't blown up overnight, and then go check on my videos and read comments from the past few days. After that, I'll edit a video in the morning, and then in the afternoon record some videos and upload my video for the day.
Is there anything that would surprise people about your day-to day?
I think people would be surprised at the sheer amount of time things take to do. Most people will see a 20-minute video uploaded every day and think "oh that's not much work". A 20-minute video takes nearly an hour to record, another hour to edit, and an hour to render. That doesn't even take into account creating a thumbnail, uploading the video, and the work that needs to be done after a video is uploaded.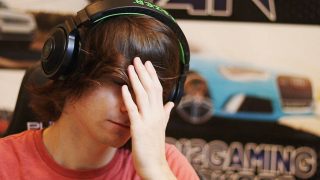 Face palm after absolutely destroying my car in a video game.
What types of videos do you like making the best?
I don't think I could pick a favorite type of video that I like making the most, it would be like picking your favorite kid. All of the videos I make, whether it's my Throwback series, Vlogs, Online Challenges, or Lobbies with Viewers, they're all unique and fun to produce.
When you were a little kid, what did you want to be when you grew up?
Growing up as a kid in Canada, playing hockey 24/7 in real life or on the PC, I wanted to play hockey professionally. After realizing that it wasn't the most realistic goal, I chose the next best option, working for EA and making games for the NHL franchise! I'm not even joking. The picture below is what I wrote in the 4th grade.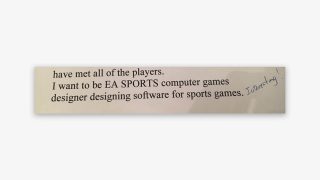 4th Grade me may have not have had the best grammar, but I did know that I wanted to be involved in the gaming industry!
What advice would you give someone just starting out in streaming or creating content?
1. Make something that you find enjoyable and would watch yourself. Chances are if you're having fun making the content, people will have fun consuming your content.
2. Just keep doing it. Don't give up if it doesn't catch on right away. For myself personally, I started out making content in 2009 but it took me until 2014 to reach 100,000 subscribers.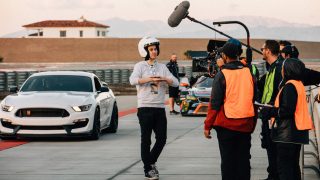 Giving an interview after being thrown around in an Acura NSX at Thermal Race track with Michelin Tires.
What are three tips that anyone can use to grow their community?
1. Be consistent with making content and create a schedule that you stick to.
2. Interact with your community, reply to comments and host lobbies with them.
3. Make stuff that you would watch, if you want to watch it others will too.
What makes NFS special to you?
For me personally, it has to be the history. One of my first video games EVER was Need for Speed III: Hot Pursuit from 1998. I remember just blasting around the streets in cars that 4-year-old me had never even heard of, but it was incredible. Then going from that to Need for Speed Hot Pursuit 2 from 2002 on the GameCube was awesome.
What is something you wish you would have known when you were just starting out as a streamer and content creator?
Probably learn to drive, so not every other comment was about how bad my driving is!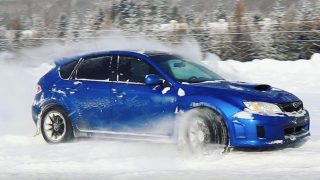 Powersliding a 2012 Subaru WRX STI in the Canadian winters.
What's the best piece of advice you've ever been given?
It must be the 1000s of comments from viewers saying "cut your hair!". Props to you viewers, I can actually see where I'm going now. Thank you!
________________________________________
Want to know more about Need for Speed? Sign-up to the newsletter and be the first to get all the latest on EA NEED FOR SPEED™ games, as well as other EA games, news, and events.
Stay in the conversation of all things EA: Read our blog, follow us on Twitter and Like us on Facebook