Jump aboard the Eudora
Isaac Clarke explores the remains of a derelict government flotilla and finds something unexpected in this fifteen-minute Dead Space 3 video exclusive.
FIFA 13 hits stores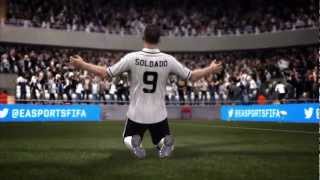 Soccer fans, the wait is over! Score your copy of FIFA 13 and we'll see you on the field.
ME3 Trilogy available late 2012
All three award-winning games will be available in one premium package, marking the long-awaited debut of the original Mass Effect on the PlayStation 3.
Warfighters dish the dirt
DOG and ROFO answer your questions in the first part of our Ask an Australian Warfighter Q&A.
Get Wanted with Need for Speed
The latest trailer shows what players can expect when they take on the best of Fairhaven City in a pursuit through some newly-revealed locations.
Here's a few of the stories you may have missed around the net.
Here's what Gamers Google
Google has released a document containing insights into what gamers are searching before, during and after a games release
EB Expo this Friday
Attendees of Sydney's EB Expo this week will be the first in Australia to play 2012/2013 releases and sample the WiiU. We'll be there too, so check out the lineup for EB Expo.
Slimmer PS3 available now in Australia
Announced at TGS just last week, the slimmest PS3 yet is now available in 12GB or 500GB models.
That's a wrap! Join us every Monday for your EA news.