We sat down with long time Battlefield fan Tae Jun Kim, also known as "Core of Idea", to hear his thoughts on Battlefield V and to gain some insight into the gaming culture in South Korea.
What or who inspired you to start streaming and creating content?
There's no one who actually inspired me to create content, but there are people whom I've learned from. One of them is Black Bindi, a Korean game reviewer, who became famous for his hilarious 'Half-Life 2' gameplay video. Back then, gaming content was not a thing in Korea, however, since he posted that video, a lot of people started to create fun gameplay videos.
And I cannot forget Jackfrags and Levelcap. Most of my contents' style and narrative were inspired by them and they are the ones who inspired me to create Battlefield content.
What are your earliest memories of gaming?
During my primary school days, most of my friends and I were playing Korean F2P online games. However, I had a chance to play GTA 2 and Call of Duty World at War at my cousin's place. Since then, I started to look for and play AAA video games which are way more polished and provide great experiences.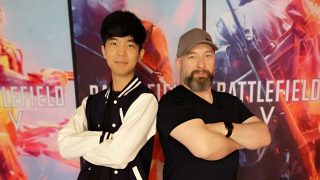 Tae Jun Kim at Australia Battlefield V event with Eric Holmes, Battlefield V Design Director
Which Battlefield game was your first, and what was your experience like?
My first Battlefield game was Bad Company 2. But at the time, the Battlefield franchise was not really popular in Korea and I did not even know Bad Company 2 was one of them.
After watching the trailer of Battlefield 3 that somehow made me want to study and look into the whole franchise and I was genuinely excited for that game. After the release, everything was perfect. I loved that game, and I've been playing Battlefield for 8 years since then.
You are part of the Battlefield Game Changers program. What is your most memorable moment of being a Game Changer so far?
Definitely EA Play. There I met a lot of famous Game Changers I look up to and am inspired by. Also I felt very privileged by the fact that I could play my favorite game ahead of everyone. June last year was my most precious experience for a new guy of GCN.
After that, Gamescom, the Battlefield V launch event, and even Anthem, I don't even know how to explain how excited I was.