How long have you worked with EA Help?
I joined Bioware back in 2011 as part of the SWTOR customer service team just before the game launched. In 2012, we moved under the EA Help umbrella where I took up the position as Game Specialist.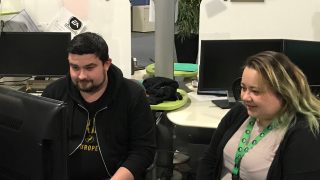 Focused in! Erika takes a quick break with a co-worker.
 
What's a typical day like for you?
There is no typical day in the life of a Product Support Expert. Every day changes!
I guess the best way to describe it is as follows: I get into the office, check through my emails to make sure no new emerging problems appeared overnight. After that, I check for any updates that may have come in for any current open game problems.
Next, I would go back to my inbox and check if there are any one-off questions from advisors that they may need help on. In between managing and tracking game problems, I work on different on-going initiatives, product reporting, and working through the expert escalation queue.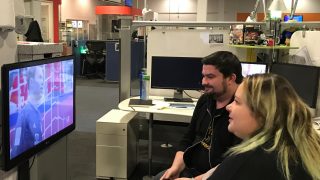 There's always time for a little EA SPORTS FIFA!
 
What are some of the challenges you encounter day to day in your role?
One of the biggest challenges we face on a day to day basis is working between multiple time zones. Both my own team members and the studio teams I work with are located across the globe, so sometimes in can be a little tricky getting projects out the door in a timely manner
What are the most satisfying parts of your role?
The most satisfying part of my role is getting to work directly with studio teams across the globe to get problems fixed.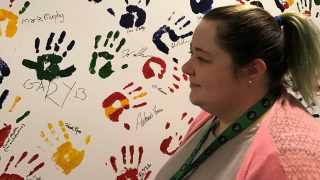 Erika next to a whiteboard where employees leave their handprints to mark their time at the studio.
 
What is your most memorable experience helping players?
I have a couple of these but the most memorable one has to be December 20, 2011, the day we launched Star Wars™: The Old Republic. I was on the front line with our players that day answering calls. To hear the excitement from our players about SWTOR and being a part of that was a memorable moment for me.
What is it like help players?
When you speak with a player and build up a rapport with them it can be quite exciting and rewarding!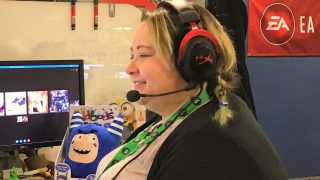 Erika on a call helping a player work through an issue.
 
What are some big projects you've worked on in the past?
One of the most exciting and rewarding would be working on Pogo. Defining and managing problem management was a core part of building up a good knowledge base within EA Help of all things Pogo. Over time, we have seen a major decrease in resolution times for problems. Because of this work, EA Help teams are now more equipped than ever for handling Pogo contacts, in turn improving customer satisfaction
When did you know you wanted to work in gaming one day?
Funnily enough, this is never a career path I thought to pursue. I started working in customer service when I left school. When I saw Bioware was opening an office in Ireland, I initially thought that could be exciting because customer service was only beginning. From then on, working in gaming has been the best choice I have ever made and I hope to continue my career within this industry.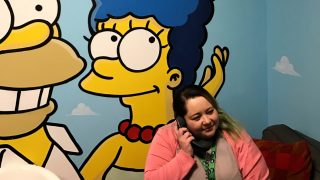 Grabbing a quick minute for a call.
 
What is the office environment like that you work out of?
One word – AMAZING! I love the people around me. Our office in Galway, is fun, friendly, and full of the most amazing people you could imagine. I wouldn't change it for the world.
Is there any advice you'd give someone interested in working in gaming?
Always remember education and grades aren't everything, if working in the gaming industry is what you want to do, then never give up believing. Hard work and determination are the most important attributes to have.
__________________________
Want to work at EA? Visit our Careers page!


Stay in the conversation of all things EA: Read our blog, follow us on Twitter and Like us on Facebook