What is your background and how did you prepare yourself to work at EA?
I am originally from Cuernavaca, Mexico, the city where I grew up cheering for 'Club America' (current CONCACAF champion). When I turned 18, I moved to Mexico City to study Electronic and Communications Engineering. Being in University was great, and I graduated with honors. As a result of my education, I became a technical person.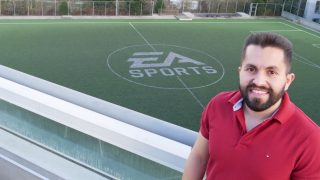 After I graduated from university, I was very intent on finding a job that I would love, but I never imagined finding a job which would combine my three passions: football, videogames and technical knowledge. Especially for one cause: to make the best football game ever.
How did you make your way to EA?
Like most young people, I wanted adventure, so I moved to Canada with a lot of motivation to have the time of my life. I had no idea FIFA was made in Vancouver. I just picked it because the weather was decent! My Canadian adventure began by working in a Mexican restaurant. Quickly, I realized it was fun, but not really what drove me, so I continued looking for a job that would allow me to do what I loved.
How did you get your Start with EA?
I was lucky! When I arrived in Vancouver, EA was looking for a videogame tester with knowledge of Mexican Football, and a basic knowledge of computer software. When I read the job posting, I couldn't stop smiling knowing I could get paid for testing FIFA. I started testing the Mexican Spanish version of FIFA, then I used my technical background to learn other systems, allowing me to contribute to testing in other areas as well. Along the way, I continued improving my English.
In the next two years, I moved to the Gameplay team and became the QA lead. Because of my testing experience and knowledge of the game, I was offered the chance to contribute small designs. I am still thankful for this opportunity as it changed my career path and took me to a Junior Producer position.
From there, it's been many years of very hard work, learning new systems and processes while using technical reasoning all the time. Now my responsibility is to drive the Gameplay team as the 'Lead Gameplay Producer'.
Tell us about your team and role.
My team is responsible for creating the FIFA gameplay, which is always the core of any game. It is a huge responsibility taking into consideration the millions of fans we have around the world. The gameplay team is formed by Software Engineers, Animators, Project Managers, and QA. I work with very intelligent people every day, and truly believe some of them are geniuses.
My role as a Lead Gameplay Producer includes a variety of duties, from playing the game and deciding what features to build, to travelling the world to show our fans the games that we created.
One of my main responsibilities is to understand the game deeply enough to define the vision and feature set for our next iteration of FIFA. To understand the game, I must spend hundreds of hours playing it myself, researching it, discussing with other producers, and listening to our fans. Basically, I am at the center of things. I get all of the positive and negative feedback, and it's my job to convert this feedback into the motivation to make a better game every year. 
What is the most rewarding thing about your job?
There are a lot of rewarding things about my job, but one of the biggest is when a fan tells me: 'Thank you, I really enjoy playing the game'. This means we have achieved our goal: to provide fun moments to our fans.
The other reward is realizing how many millions of people actually have fun playing FIFA. All the hard work pays off in the end as we make people happy.
What are some of the challenges you face in your role?
Like any job, there are different types of challenges, but the biggest one in the technology industry is to keep up with the huge expectations that our fans have. FIFA always changes, while football is the same every year: the goal is always to put the ball in the back of the goal while making sure the opponent can't do it. At end of the day, all of our fans (millions) are also judges. We do our best to make them happy, and this requires a lot of very hard team work.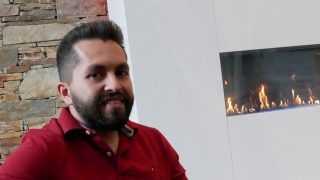 What advice can you give to someone who aspires to a be in your field at a EA?
First, if you like football and videogames, then being a Producer on FIFA is a dream job. My advice would be to check the EA Careers website frequently. With the size and success of the franchise, we are always looking to bring new talented people to the team.
A second recommendation would be to analyze football mechanically and in depth. What exactly is it that makes Lionel Messi and Cristiano Ronaldo special players? Well I can tell you, building that into a videogame requires a lot of analysis and thinking.
Want to work at EA Vancouver? Join the team here!
Stay in the conversation of all things EA: Visit our site, follow us on Twitter and Like us on Facebook.