This week, we introduce the Nod Centurion, which uses it's shield to block incoming damage. Read on for tips, tricks and counters to master this new unit.
NOD: CENTURION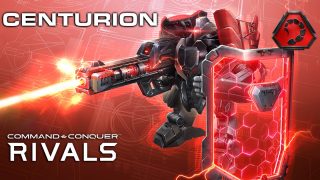 Anti-vehicle walker equipped with an electric-plasma shield
The Centurion is the result of Kane's demand for a "mechanized Praetorian Guard, worthy of defending God's chosen on earth." It is piloted by battle-hardened veterans and equipped with a unique "Testudo" shield system able to absorb heavy weapon attacks, making it ideal for defensive operations.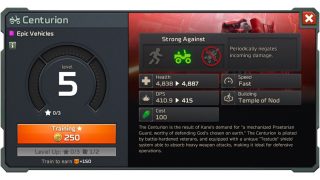 Stats:
Faction: Nod
Building: Temple of Nod
Rarity: Epic
Tiberium Cost: 100
Unlocks at Player Level 9
Deployment Tips:
When the shield is active, the Centurion blocks incoming damage. Set up a defensive position by a Harvester or on the missile platform to give yourself an extra edge in battle. The defensive position allows your Centurion to attack first, while the shield will block the initial shot from your enemy. The shield recharges over time and will automatically activate when completely recharged.
The shield is also great for more offensive maneuvers. The shield blocks the first shot of damage from ranged units like Artillery or MLRS, letting you get close enough to attack without losing all your health.In extended fights against tough opponents such as the Titan or Rockworm, the shield can activate multiple times, allowing you to survive longer.

Counters:
Orca, Mohawk Gunship, Banshee, Basilisk
Missile Squad, Laser Squad, Zone Trooper, Cyborg
The best counter to the Centurion is anti-vehicle aircraft. They will be able to deal free damage on the Centurion, while the Centurion is unable to counter-attack. The shield can block the first shot of damage, so take it down with a Missile Squad or Laser Squad before sending in burst units such as the Orca or Inferno.
From the Devs:
"The Centurion's defensive shield makes it a strong, anti-vehicle combat unit." - KyleF
We Want Your Feedback: We'll be aggressively tweaking and tuning all units, and this is a great chance to have a real impact on the game! Tell us what you think of the new units on Twitter and Discord.