This week, we introduce the GDI Orca Bomber, which can destroy groups of enemy ground units. Read on for tips, tricks and counters to master this new unit.
GDI: ORCA BOMBER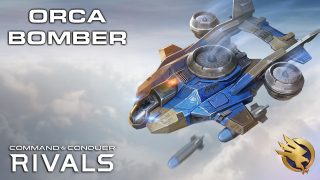 Annihilate large formations of enemy ground units
The Orca Bomber, designed by GDI's Engineering Corps, is a bomber aircraft first deployed during the Second Tiberium War. The bomber's heavy bomb load allows it to devastate large formations of enemy ground units, however it's slow speed and large radar signature make it easy prey for enemy fighter aircraft and ground-based anti-air units.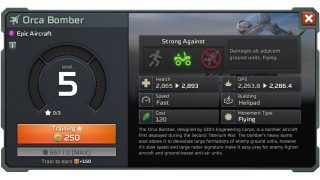 Stats:
Faction: GDI
Building: Helipad
Rarity: Epic
Tiberium Cost: 120
Unlocks at Player Level 43
Deployment Tips:
The Orca Bomber is a unit that can devastate enemy ground units, but like it's smaller cousin the Orca, it benefits from active micro and savvy positioning. Fly over an enemy ground unit to release powerful bombs. The central target takes the most damage, with lesser damage affecting adjacent ground units. Be aware that the bombs will damage all ground units within the damage zone, so watch out for friendly fire!
Counters:
Talon, Banshee, Phantom, Hammerhead
As a ground bomber, it is vulnerable to attack from all anti-air aircraft. The Orca Bomber is too slow to effectively maneuver away from enemy aircraft, so have your own anti-air units, such as the Hammerhead or Talon, to keep it alive. Sending any ground units against the Orca Bomber is dangerous - the bombs can damage any ground unit within a 7-hex radius.
From the Devs:
"Oft requested, the famous Orca Bomber makes its appearance in C&C Rivals, giving GDI a heavy hitter in the Helipad that can contend with Nod's Inferno." - MrBlack
We Want Your Feedback: We'll be aggressively tweaking and tuning all units, and this is a great chance to have a real impact on the game! Tell us what you think of the new units on Twitter and Discord.