Introducing a new way to suppress enemy with the GDI Shatterer. Read on for tips, tricks and counters to master this new unit before its release.
GDI: Shatterer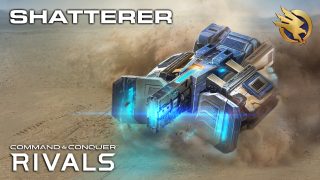 Stun enemy infantry into submission
The GDI Shatterer is an infantry suppression weapon that combines GDI hover tech and sonic tech. The Shatterer's concentrated sonic-seismic hybrid wave damages and stuns enemy infantry units.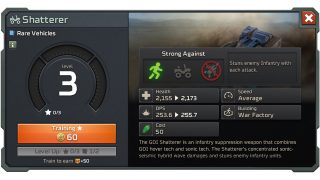 Stats:
Faction: GDI
Building: War Factory
Rarity: Rare
Tiberium Cost: 50
Unlocks at Player Level 37
Deployment Tips:
Use this to take down beefier infantry units. The ability to stun infantry allows the Shatterer to hold up better against anti-infantry units such Grenadiers or Mutant Marauders. The Shatterer excels on defense as it can fully utilize its crowd control abilities to inhibit the enemy's movement.
While it can attack vehicles, the Shatterer is unable to defend itself against air units. Pair it with a Slingshot or Pitbull to protect your Shatterer from airborne threats.
Counters:
Orca Bomber, Inferno, Banshee, Mohawk Gunship, Kodiak, Basilisk
Predator, Scorpion, Centurion, Titan
The best offense against a Shatterer is air. Your Orca Bomber or Inferno will damage not only the Shatterer, but any ground units that may be protecting it. From the ground, send in anti-vehicle units like the Predator or Centurion. They can easily deal damage to the Shatterer without needing to worry about the stun.
Fun Fact: Listen closely as the Shatterer spins its own music when given an attack command.
From the Devs:
"The Shatterer's stun will help you deal with the Grenadiers and Marauders while not having the same weaknesses as a Shockwave Trooper or Flame Trooper." - KyleF
We Want Your Feedback: We'll be aggressively tweaking and tuning all units, and this is a great chance to have a real impact on the game! Tell us what you think of the new unit on Twitter and Discord.