This week, we are introducing two new units that open up unique strategies for players at all levels: GDI's Shockwave Trooper and Nod's Tick Tank. Whether you're leading them into battle, or defending against them, we have all the details, tips, and counters you'll need to crush your rivals.
GDI: SHOCKWAVE TROOPER
Shatter enemy infantry and structures with beams of sonic energy.
Shockwave Troopers are elite GDI ground troops armed with miniaturized Disruptor technology. Although less powerful than the Disruptor, the Shockwave Troopers' lower cost and ability to be deployed from the Barracks has made them a staple among GDI infantry forces.
Stats:
Faction: GDI
Building: Barracks
Rarity: Rare
Tiberium Cost: 40
Unlocks at Player Level 1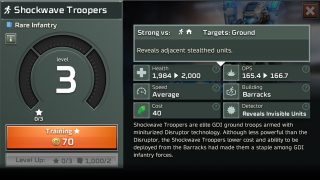 Shockwave Trooper Info Card
Deployment Tips:
As powerful infantry squads, Shockwave Troopers excel at eliminating enemy infantry and directly assaulting structures. Deploy them to counter heavy infantry, like the fearsome Nod Cyborg, and to apply significant pressure on your enemy by directly attacking their base.
Counters:
Rhino, A.P.C., Buggy, Flame Tank (anti-infantry vehicles)
Talon, Venom, Inferno (anti-infantry air)
Shockwave Troopers overwhelm enemy infantry but lack the power to bring down other types of units. Send in air or vehicle units to take them out and avoid engaging them with your own infantry. Use high-speed, mobile units to defend your base from direct assault without totally sacrificing your ability to control the missile.
From the Devs:
"GDI was really lacking a mid-tier direct infantry counter to units like the Cyborg and Zone Troopers. We wanted to give players an easier to use, more direct counter to high-tier infantry, as well as a unit that they could use to harass the enemy base. " - MrBlack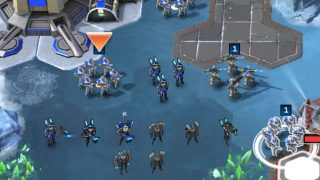 Early Shockwave Trooper Concepts
NOD: TICK TANK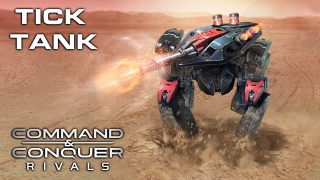 Secure dominate control of the missile with an immovable force.
The Tick Tank is a Nod Battle Tank specialized for defensive operations. When stationary, it has the ability to entrench in the ground, reducing the amount of damage taken. The Tick Tank's unique Baryshnikov Dual-Drive tread system allows for both high speed transit and the ability to entrench in the ground, heavily reducing the amount of damage taken from incoming enemy fire.
Stats:
Faction: Brotherhood of Nod
Building: War Factory
Rarity: Epic
Tiberium Cost: 80
Unlocks at Player Level 4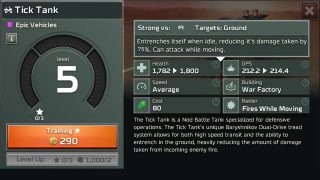 Tick Tank Info Card
Deployment Tips:

When the Tick Tank stops moving, it automatically digs into a defensive position and halves the damage it takes. When entrenched, it becomes very difficult to remove, making it a perfect unit to hold control points. Get to the missile pads before the enemy, and don't be afraid to stay in place and absorb some hits.
Counters:
Orca, Banshee, Basilisk, Kodiak (anti-vehicle aircraft)
Cyborg, Laser Squad, Missile Squad, Jump Jet Trooper, Zone Trooper (anti-vehicle infantry)
Once a Tick Tank is entrenched in the ground, destroying it becomes significantly more difficult. It is always optimal to attack the Tick Tank while it's still moving, preferably by beating it to control points with quick, cheap anti-vehicle units. If you must fight an entrenched Tick Tank, anti-vehicle infantry, such as Zone Troopers or Laser Squads, will fare well, and forcing a 2-on-1 encounter can help make up for the reduced damage.
From the Devs:
"The Tick Tank, as well as being a classic Tiberian Sun unit, is designed to give Nod some sustained tanky-ness at strategically important points, but at a lower cost unit than, say, the Rockworm. " - MrBlack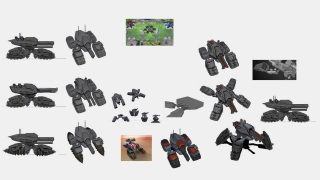 Early Tick Tank Concepts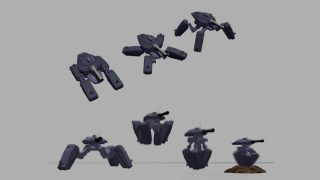 Tick Tank Drill Design
FEEDBACK
We will be tweaking and tuning units in Command & Conquer: Rivals ahead of worldwide launch, and we want you to have the opportunity to have a real impact on the game. If you have access to the game in this early period, we hope you'll play when the update goes live and tell us what you think of the new units on Twitter and Discord.