This week, we introduce the GDI Slingshot. Read on for tips, tricks and counters to master this new unit.
GDI: SLINGSHOT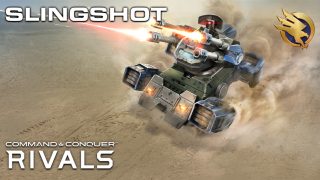 Mobile anti-air weapons platform utilizing GDI hover technology
The Slingshot is a mobile anti-air weapons platform utilizing GDI hover technology. Advanced radar systems allow the Slingshot to track and engage airborne targets at extreme ranges, enabling effective and cost-efficient air cover for GDI ground forces.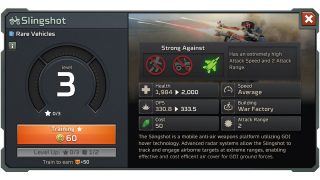 Stats:
Faction: GDI
Building: War Factory
Rarity: Rare
Tiberium Cost: 50
Unlocks at Player Level 41
Deployment Tips:
Only able to attack aircraft, the Slingshot fills a very niche role. For those who prefer a War Factory heavy army, the Slingshot replaces needing to build the Helipad and Hammerhead to deal with enemy aircraft.
With its 2-tile attack range range, use it to fortify a defensive position safe behind cover of terrain or allied units. The Slingshot excels as a second line attack unit, allowing other units like a Predator tank or Mohawk Gunship form the vanguard. The Slingshot deals with enemy aircraft from a distance while allied units protect a vulnerable Slingshot from infantry and ground vehicles.
Counters:
Pitbull, Scorpion Tank, Titan
MG Squad, Laser Squad, Cyborg
A lonely Slingshot is a dead Slingshot. Send in any anti-vehicle infantry or vehicle and the Slingshot will be helpless to defend itself.
Smart commanders will pair the Slingshot with allied units as defense. If that happens, select a unit that is strong against the defensive unit. A Slingshot protected by a Talon is easily dealt with by Cyborgs while a Titan will handle a Pitbull-Slingshot combination.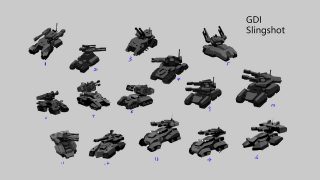 Early Concept Art
From the Devs:
"The Slingshot is the GDI War Factory's answer to higher tier air units." - KyleF
We Want Your Feedback: We'll be aggressively tweaking and tuning all units, and this is a great chance to have a real impact on the game! Tell us what you think of the new units on Twitter and Discord.