*Editor's Note: Some of the information here has either changed or is now out-of-date. We have changed what we can to make sure this blog is current but you can find more information on the latest Attack Mode Season details here.
We're introducing a new feature within Attack Mode for FIFA Mobile, called Attack Mode Seasons which turns Attack Mode into a Seasonal challenge mode that rewards players with cool and exclusive rewards.
How does it work?
Each Attack Mode Season offers up amazing Player Items to chase. The higher you reach, the better exclusive rewards you can get. At the start of each Season, we do a partial reset of the Attack Mode Leaderboard.
What do you mean by a partial reset?
When a new Season begins, you will start with fewer Fans and in a different Division than when you finished the previous Season.
Use this chart to see where you'll start a new Season depending on where you finished the previous one:
Can you tell us more about the Exclusive Rewards?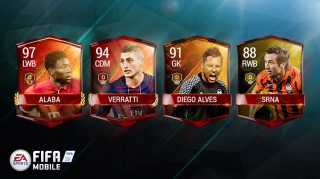 We are offering cool rewards each Season. At the start of a new Season, we will grant everyone who played Attack Mode with a Reward Pack based on where they finished the previous one. This Pack contains Tokens and potentially some Gold or Better "Fan Favorite" Player Items.
Use Tokens to unlock Master Elite Player Items, which are exclusive to a particular Season. So, if you earn 130 Tokens in the first Season, you can only redeem them on the Season 1 Master Elites.
Can you tell us more about the different Attack Mode Player Items?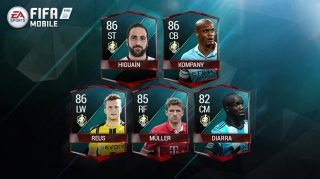 There are two kinds of Attack Mode Player Items available. Each Month, we will feature four (4) Season Master Elite Players. You unlock these Player Items by using the Tokens you've received in your End of Season Reward Pack. Season Master Elite Players are Untradeable.
On top of that, we have a series of Gold and Elite Fan Favorite Player Items. These are either given to you in your Reward Pack, completing their corresponding Plan, or found in Attack Mode Packs that you can buy. Fan Favorite Player Items can be bought and sold on The Market.
When Attack Mode Players are on your squad, you will earn bonus Fans (up to a maximum of +20%) per turn in Attack Mode. These will be very important to have if you're looking to reach the 10 million fans required to become a "FIFA Champion" within a given season.
How many Tokens do I get at the end of each Season?
Depending on the Division you reach at the end of a Season, you will get a Token and some Player Items. The Token you get depends on which Division you finished at the end of a Season.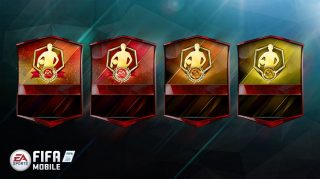 At the end of the Season, you receive the reward for the Division you finish at, not the highest one you've reached.
Is there somewhere in-game where I can see which Division I am in and/or the potential Rewards I may get?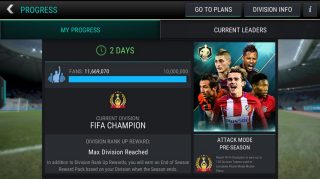 If you click the "Progress" button in the Attack Mode Menu, you will be able to see your Attack Mode Seasons Progress. Use this to see how many days are left in Season, how many fans you have (or need for the next Division), and information about your potential End of Season Rewards.
Wait one second, I'm already a "FIFA Champion", don't I get something now?
Yes, you do get something! Although we are targeting February 1, 2017, as the first Season of Attack Mode, we're still rewarding everyone who's played up to that point. When the new Season begins, we will send out rewards to all players based on where they finished the "Pre-Season". If you reach and finish the Pre-Season as a "FIFA Champion", then you will get 130 Tokens to use on the four (4) Season Master Elite Players.
If you're getting close to promotion within Attack Mode, there are still a few days still left to move up a division or two. Get into the mode, win some matches, and get yourself a better reward.
Also, if you finish the Pre-Season in the Top 250 of Attack Mode, we have an additional gift lined up for you.
Does my team reset at the start of each new Season?
No, nothing is happening to your current squad. You will still have the same team you had at the end of the Pre-Season when the first Season of Attack Mode begins.
So, we can still complete the Mobile Master Marco Reus Plan?
Yes, you will still be able to complete the Mobile Master Marco Reus Plan. The Tokens required to complete that Plan have not changed, you will still need to reach "FIFA Champion" to earn all 13 Mobile Master Division Tokens.
What is the "Attack Mode Champion" and how do we get him?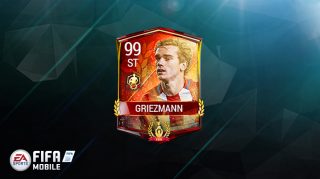 We have an exclusive 99-OVR Player Item available for those players who reach FIFA Champion three (3) times. That plan requires three (3) FIFA Champion Tokens. You will only be able to unlock him by reaching FIFA Champion in three Seasons. Like all the other Attack Mode Player Items available, he gives you a "Fan" and "Reaction" Bonus when placed on your squad.
Will you warn us about Attack Mode events, such as when rewards are available or remind us that the current season is ending?
Of course, we will. We'll have notifications on Twitter (@EAFIFAMobile) and in-game to let you know of any pertinent information about Attack Mode Seasons.
Anything else we need to know?
That's about it. We're excited for everyone to get in and play Attack Mode Seasons, and look forward to hearing your thoughts on the different prizes available and the opposition you face.
Good luck!
*Please Note: Player Rewards and all other Prizing is subject to change without warning.
---
FIFA Mobile is available now on iOS, Google Play, and Windows Phone.
Stay in the conversation on all things FIFA Mobile by liking us on Facebook and following us on Twitter.
Sign-up to receive emails about EA SPORTS FIFA and EA products, news, events and promotions.