Leagues are a great way to interact, compete in bracket-style tournaments, and challenge other leagues for bragging rights or to earn possible in-game rewards.
Check out Noobkill213's video on Leagues and his other EA SPORTS Mobile content.
How to Join League
Joining a League is easy. Head over to the League menu and from there you can either create a League or join one.
Join a League
To Join a League, use the search function to see all the different Leagues with open spaces. You can narrow your search to certain categories if you're looking for something in particular.
Joining a League requires the Admin(s) to accept each invitation, so there might be a delay to find out if they accept or deny your request. If a League is full or if there are too many people attempting to join, you'll have to either wait until an Admin clears up their pending League applications.
Every player in FIFA Mobile can only be a member of one League and each can contain a maximum of 32 members.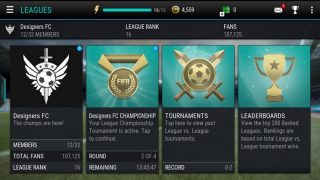 Create a League
If you want to create your own League, press the 'Create a League' button in the Join League menu. From there, you'll need to choose a League Logo and to give your League a Name. If you want to target specific members to join your League, you can adjust the number of Fans, Level and/or Team Rating necessary to enroll.
League Admins can accept or reject invite requests, invite and manage members and look at other members' accomplishments.
Once in a League, you can interact with other members by chatting in real-time. This is a great way to schedule matches, to talk about the game, or discuss what's happening in the real world.
LOOKING TO JOIN A LEAGUE OR FOR PEOPLE TO JOIN YOUR LEAGUE?
League Admins can invite people to their League directly in-game but we also recommend using the FIFA Mobile Forums to connect with other players. There you can post information about your league for others to join. If you're looking to join an active League, visit the forums to see who's looking for members.
PLAY WITH LEAGUE MEMBERS OR CHALLENGE OTHER LEAGUES
In addition to interacting with other members in real-time, you can play against other members, take part in League Championships or challenge other Leagues in tournaments.
Championships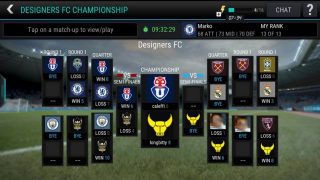 Challenge other League members in bracket-style tournaments for bragging rights.
League Admins can start Championships as long as there isn't a tournament being played. In addition to setting up which members can take part, they can decide how many turns each round lasts. Due to time limitations, if a match ends in a draw, the winner is always the person who scored the fastest first goal in that match.
Depending on the number of people playing or if someone fails to play their turns, it is possible to see certain people to earn a "Bye" into the next round. Try to encourage your fellow League members to play their matches.
League v League Tournaments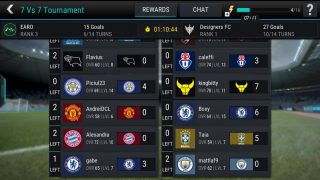 You can also play against other Leagues in a group challenge. Here, you work together to outscore your opposition in a 24-hour period. Your League's Admins can decide how many members take part in these challenges which also determines the League you play against. In League v League Tournaments, each person has three attempts to score as many goals as they can. You need to work together to beat your opposition, so it's important that every plays their turn.
LEAGUE BASED REWARDS & ACHIEVEMENTS

Playing in a League also opens the possibility to earn certain in-game rewards. Use the tokens received in League v League Tournaments to open League Packs. There are also League-specific achievements that reward you with certain in-game content. There are many prizes available to unlock, including some exclusive high-rated Players. Earning these rewards requires the help of the entire League. So, the more you play, the faster the prizes you can earn those items.
---
FIFA Mobile is available now on iOS, Google Play, and Windows Phone.
Stay in the conversation on all things FIFA Mobile by liking us on Facebook and following us on Twitter.
Sign-up to receive emails about EA SPORTS FIFA and EA products, news, events and promotions.