FIFA Mobile brings more fun and excitement to the pitch with our new Attack Mode, more accessibility with a creative control system that lets you play the way you want, and all the while making sure it's available to more people around the globe.
Attack Mode
FIFA Mobile debuts an all-new way to experience football with Attack Mode. This action-packed, turn-based match is an asynchronous experience that pits you against other FIFA Mobile players from around the world. You only play your attacking possessions against your opponent's squad.

It's all the fun of football packed into this ~75-second experience.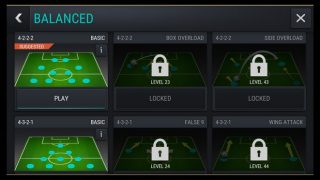 There is a strategic element to this mode, as you'll need to select your team's tactics before each match. Use either attack-heavy, defensive-minded, or a balanced approach in your turn. The tactic you decide to go with determines the formation available for you to use and what your opponent faces off against when it's their turn. The more you play FIFA Mobile, the more varied tactical line-ups you unlock and can choose from.

Regardless of if you challenge someone to a match or they challenge you, you both have 48 hours to complete. Winning matches and scoring goals increases your fans and earns you experience, which helps you climb the leaderboard and divisions as you strive to become one of the best virtual footballers on the planet.
Variable Control Options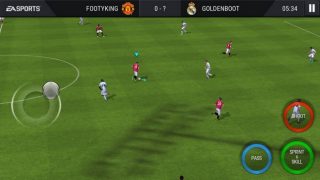 The key to making FIFA Mobile accessible to all on mobile is offering multiple control options. It doesn't matter if you're a hardcore mobile gamer or jumping into a game for the first time, our variable control schemes caters to everyone.
Auto Play
Build your team the way you want then let them go at it on their own with auto play. Your players will intelligently move, pass and/or shoot on their own. Best for those who want to manage their squad but not have to control them on the pitch.
Gesture Controls
Tap on teammates or open space to start passes, then swipe towards the goal to make them shoot. The faster you swipe, the more powerful your shot will be. And, you can try applying curl to the shot by swiping a curved line for even more control. Our gesture controls take auto play one step further by giving you more control on the pitch.
Virtual Stick
But if you want complete control, then our virtual stick gives you that by simply touching the screen in-game to activate. You decide where your players go on the pitch and how much power goes into each pass or shot.
FIFA Mobile allows players to seamlessly transition from these three control schemes without having to stop a match. Use the virtual sticks to move your players around the pitch, then use gesture controls to make that curving shot or lobbed pass. Mix it up to find the control scheme that fits your preferred play style.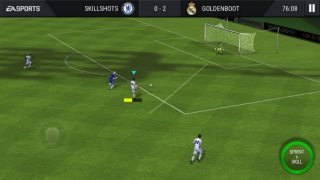 Play on more devices
FIFA Mobile works on the widest array of mobile devices. The game's size downloads in under 100 MB, which means that even without a WiFi connection, you can still download the game without hurting your data plan.
At worldwide launch, FIFA Mobile will feature support in many different languages, including English, French, Brazilian Portuguese, Russian, and Turkish. If your mobile device runs iOS 8 or better, Android 4.1 jb or better, or Windows 10 Mobile you can download and play FIFA Mobile.
---
FIFA Mobile is available now on iOS, Google Play, and Windows Phone.
Stay in the conversation on all things FIFA Mobile by liking us on Facebook and following us on Twitter.
Sign-up to receive emails about EA SPORTS FIFA and EA products, news, events and promotions.