FIFA Mobile's Attack Mode as you once knew it is no more. In its place, we introduce to you VS Attack. This is our new multiplayer mode that focuses on delivering a quick and easy match experience that is more exciting, engaging, and fun! Continue reading to learn how VS Attack works.
What is VS Attack?
We brought Stopde to our studios in Vancouver, Canada to get a first-hand look at VS Attack, check out his video below to see the mode in action.
VS Attack takes everything you know about Attack Mode and gives you a quick and easy way to play against other people. No more waiting for others to play their turns. In VS Attack, you'll connect to an opponent in seconds, play against each other's line-ups in a two minute match and once you're done, it's off to the next one. It's that simple!
How does it work?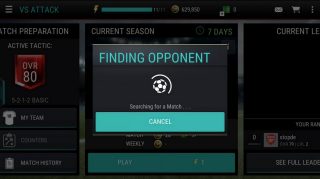 We've done a few things to make matchmaking and playing VS Attack extremely easy. First thing, we removed the World Map and introduced a simple Match-Making screen. Here you'll get the details on your current Division, what you need to do to reach the next one and the option to Play a Match.
Clicking the Play button activates our new matchmaking system that pairs you up with someone from the same division, who also has a similar number of fans.
Once you're connected, you'll each get about 15 seconds to select your Formation and Tactic before the match loads. The Formation you pick is the one your opponent plays against. Meaning that if you go for an Attack Formation like 3-4-1-2, your opponent will be facing off against your three defenders on their turns.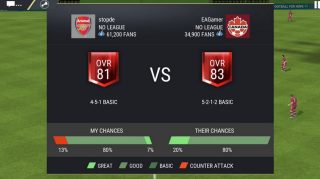 Once a VS Attack match begins, the 2:00 timer starts and you'll have that much time to score more goals than your opponent. The clock does not stop for corners, free kicks or penalties, so you'll have to play efficiently if you hope to win. We've also removed replays after goals or huge saves to make sure you have the most chances to score in each match.
Although you aren't playing against someone in a regular match, each player is getting live feedback on what their opponent is doing. If they're encountering a Counter Attack situation, you'll be notified of it. If they just scored a goal, you'll know it and the pressure is on you to do the same.

After the timer is up, you'll get a notification screen to let you know how well you did versus what your opponent did. There is no extra time in VS Attack, so you'll want to go for the win ineach match you play.
Wins in VS Attack earn you Fans to move up the divisions. Losing matches will result in a loss of fans and increase your risk of getting relegated.
Do Player Items with Fan Bonuses still give extra Fans in VS Attack?
With VS Attack's promotion and relegation built differently than Attack Mode and the shift to real-time matchmaking, the concept of the +Fan % Players will be changing (you get the same number of Fans if you win regardless of the division you are in). Any Player Item that has a +% Fans bonus will have their bonus replaced with a +X bonus to All other players on your team. We will have more on this change when VS Attack begins.
How long do seasons in VS Attack last?
When VS Attack begins, each season will last about a week but we may adjust based on feedback and player data.
At the end of each season, you'll be rewarded with a prize pack. Higher divisions mean better prizes.
What kind of Prizes?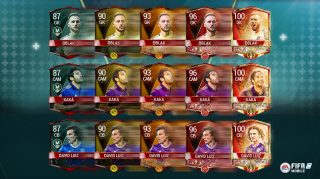 We're taking our popular Blue Star Program and implementing a similar structure for VS Attack. We have three players that you can upgrade from their base OVR in the hopes of reaching 100-OVR. The better you do in VS Attack, the better the Tokens you get. Those in FIFA Champion will be able to upgrade these players to their max Overall Rating while those in lower divisions will need to move up the divisions to do the same.
The division you end each season is also the division you start with, the only thing that resets is the number of fans you start with. So, if you finish a season as a FIFA Champion, you'll start the next season in FIFA Champion but with the base number of fans.
*Please note that for the first season of VS Attack, everyone begins in the Amateur Divisions. Fan Resets only apply after the first season of VS Attack.
Every time you win a match in VS Attack, you'll receive a Victory Token. At the end of the week/season, you will get a Division Token based on the division you finish in. Both Tokens are necessary to unlock and upgrade the VS Attack Players. You will also be able to buy VS Attack Packs in the store to help you improve your players quicker. However, you can only get VS Attack Tokens for the division you are in. Meaning, if you are in Pro II only Pro II VS Attack Token Packs are available in the Store.
At the end of each week/season of VS Attack, depending on the Division you are in, you will receive a Division Token Pack. The further up you are, the more Tokens you receive. If you are in FIFA Champion, your pack will contain eight (8) FIFA Champion Division Tokens. Use these tokens to complete the various Player Plans.
While FIFA Champion Tokens will work on every Plan, Lower Division Tokens will only work on their division or the ones below it. On the flipside, if you get a Pro II Token, it only works on Plans that accept the Pro II or Pro III Token.
As always, make sure to check in-game for the requirements to complete the various VS Attack Plans.
Is VS Attack available in Other Modes?
At the moment no, VS Attack is exclusive to our new VS Attack Mode. League and Friendly matches will still use the older Attack Mode format. We may consider adding this feature in the future but we do not have a timeframe for the moment.
When does VS Attack Begin?
VS Attack is now available to play!
Good luck!
* = Images taken from a pre-release build, contents may differ slightly than what actually appears in-game.
---
FIFA Mobile is available now on iOS, Google Play, and Windows Phone.
Stay in the conversation on all things FIFA Mobile by liking us on Facebook and following us on Twitter.
Sign-up to receive emails about EA SPORTS FIFA and EA products, news, events and promotions.