How about that NFL trade deadline, huh? That was a little hectic. We'll get into some of the ratings boosts and blunders soon enough, but let's take a quick look at some of the big names sent to new teams just before the trade deadline.
First, a pair of teams got some major upgrades to their WR group.
Demaryius Thomas' Denver departure was a bit telegraphed, but this is a huge step up for the Houston Texans' roster in Madden. He may be a step down from Will Fuller's Speed, but Thomas' skill set is more versatile, and he is a reliable route runner. Most defenses will be spread too thin to cover both him and DeAndre Hopkins.
In the NFL, Golden Tate is as close to a perfect match as you can find for Philadelphia's offense. Tate is a significant improvement at WR for the Eagles. He gives the team a great passing option outside of just Alshon Jefferey and Zach Ertz.
Outside of WRs, probably the biggest move is a case of the rich getting richer. The Los Angeles Rams traded for RE Dante Fowler. Fowler was the third overall pick in the 2015 NFL Draft. His upside was always there, but now that he shares a defensive line with Ndamukong Suh and Aaron Donald, the Rams have further solidified themselves as the team to beat in the NFL.
There were plenty of other transactions around the trade deadline, but let's get to the ratings updates.
Moving on Up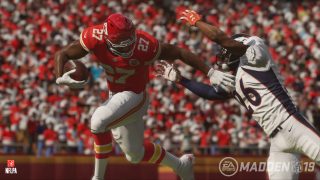 While Patrick Mahomes has been lighting up the NFL, Hunt has been amazing on the ground. The bright side to Mahomes dissecting defenses at will is it's giving Hunt a way more spread out field than he had last season.
Lindsay has been running angry all season and is making a case to be the Broncos' main ground attack. Lindsay has proven to be the force that keeps the Denver train rolling and gets a well-deserved bump in the ratings.
Finishing up this trio of HBs is Pittsburgh Steelers hero James Conner. He's stepped into a giant need in the ground game. He totaled more than 200 yards against the Cleveland Browns and has provided a foundation for the Steelers explosive offense, sans Le'Veon Bell.

Moving on Down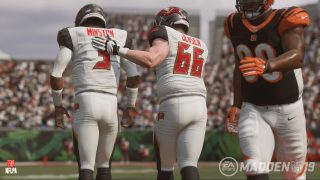 There are bad interceptions, then there are Jameis Winston interceptions. His 10 INTs is tied for the NFL lead, and that's a player that's already had his bye week and missed the first three games of the season. He grew increasingly careless with the football and was benched, likely for the rest of the season, for Ryan Fitzpatrick. He might've played his last down in Tampa.
Crowell racked up a whopping 25 yards on 13 carries. If you think that yards-per-carry is bad, consider that his longest run of the day was seven yards. Regardless, averaging less than two yards each time your number is called is never a good thing.
Eli Manning hasn't been great this season, but when Engram lets passes go through his hands, it doesn't help matters.

–Daniel Williams (Follow Dan on Twitter @thatDanW)
---
Madden NFL 19 is available now. Stay in the conversation by following us on Facebook, Twitter, Instagram, YouTube, and EA Forums. Sign up for the Newsletter today to receive updates on Madden, and other EA news, products, and events, all season long.