The second day of the Madden Classic commenced with single-elimination gameplay as the field of over 100 remaining competitors was whittled down to the final 16 for Day 3, one game at a time.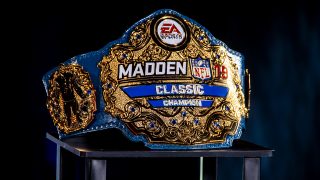 Friday's Round of 64 provided a slew of shocking upsets, with some of the biggest names in the scene who dominated on Day 1 getting eliminated.

Last season's Madden Bowl champion, Shay "Young Kiv" Kivlen, competitive Madden veteran Eric "Problem" Wright, Raidel "Echo Fox Joke" Brito, and last season's Madden Club Series champion Hassaan "GOS" Spall all fell in the round.

On the other side of the coin, Madden Classic defending champion Michael "Skimbo" Skimbo, Madden 18 Challenge winner Drini "Drini" Gjoka, and Madden Bowl final four competitor Abbott "Blocky" Lopez all advanced to Day 3.
BEST OF DAY 2
Drini was up to his usual shenanigans on Friday. Known as one of the best in Madden at user lurk interceptions, here's a clip of the young star showing off his skills.

Skimbo, who's seeking his third Madden Championship Series Belt and to defend his Madden Classic champion title, beat out George "DntCareAboutIce" Swartz in the Round of 64. These competitors met in last years Club Championship, and the result was the same. They showed some solid sportsmanship after the match.


DAY 3 PLAYERS TO WATCH
A familiar name with many in the competitive Madden community, Zackery "SeriousMoe" Lane has pitched shutouts in two of his last three games and is a favorite to make a push to the Grand Final on Saturday.

Meanwhile, Matt "Mastergamer" Lee has had a quietly impressive tournament. In his final match of Day 2, he locked up the last spot on Day three on the heels of a pick-six and a kick return.

Make sure to tune in on December 8 for more Madden NFL 19 competitive gameplay live from Las Vegas as the tournament continues into its final day. Check out all the ways you can watch including EA SPORTS Madden NFL 19's Twitch, YouTube, Facebook, and Mixer.

— Matt Franciscovich (Follow Matt on Twitter @MattFranchise)
---
For more information on the Madden Championship Series and how to compete in future events, visit the Madden NFL 19 compete homepage. Keep it locked on the @MaddenLeagueOps Twitter handle for news, tournament updates, recaps, and content during the Madden Classic.