Michael "Skimbo" Skimbo accomplished a monumental victory at the EA SPORTS Madden NFL 19 Classic in Las Vegas, winning his second-straight championship at the tournament. Skimbo defeated Madden competitive scene veteran Justin "LilMan" Barone by a score of 28 — 21 in the Grand Final to earn back-to-back titles and his third-career Madden Championship Series belt.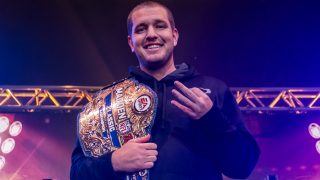 Skimbo sealed the deal with a fourth-quarter interception in the end zone with Chiefs defender Eric Berry and there was nothing left to do but burn out the clock.

The Oklahoma native was dominant all weekend, rocking his opponents in Thursday's Group Stage, and chipping away at opponents like George "DntCareAboutIce" Swartz, Michael "NobleProdigy" Scott and perhaps the toughest single-elimination opponent of all, Drini "Drini" Gjoka in the quarter-finals.

The champion had a tough semi-final match against Matthew "Mattsergamer" Lee, but just like in the Grand Final, Skimbo sealed the victory against Mattstergamer with a clutch interception.

Shoutout to runner-up Justin "LilMan" Barone who locked up a seat at this season's upcoming Madden Bowl with his Grand Final berth. And we can't forget about Abbott "Blocky" Lopez who made the Madden Classic Final 4, his second-straight EA Major Final 4 berth after nearly winning it all at last season's Madden Bowl in Dallas, Texas.

Now, all eyes turn to the Madden Club Championship. All 32 NFL teams are represented by a Madden competitor, and after all local Club Series championships wrap, the live finals are set to kick-off at the end of January 2019. With that, we close the curtain on the Madden NFL 19 Classic from Las Vegas.

— Matt Franciscovich (Follow Matt on Twitter @MattFranchise)
---
For more information on the Madden Championship Series and how to compete in future events, visit the Madden NFL 19 compete homepage. Keep it locked on the @MaddenLeagueOps Twitter handle for news, tournament updates, recaps, and content during the Madden Classic.