In a sensational Madden NFL 18 Bowl Championship final, Shay "Young Kiv" Kivlen defeated Drini "Drini" Gjoka by a score of 28-24 to earn his first Madden Championship Series title belt. There's no more room for debate, Young Kiv is now the undisputed best of the best when it comes to Madden NFL 18 competitive gameplay. With the big win, Young Kiv joins an exclusive club of Madden NFL competitors who own MCS-era belts.
Here's how it all unfolded at the Madden NFL 18 Bowl this past weekend, live from Dallas, TX.
Conference Championships
Young Kiv rolled into the final with loads of confidence following a shutout win, 24-0, against Abbott "Blocky" Lopez in game one of the Conference Championship round. His performance was dominant from the start as he nabbed two first-half interceptions with 94 OVR Out of Position Elite Calvin Johnson, one coming on the opening drive to set the tone.
Young Kiv's offensive MVP was 98 OVR Position Heroes Elite FB Kyle Juszczyck. He used him as his secret weapon at the goal-line, pounding in multiple rushing touchdowns in this game. The contest was over as quickly as it started. Even though Blocky went home early in the Conference Championship, he's not going anywhere in the long term. He should be proud, as he came out of nowhere this season, and landed squarely on the competitive Madden NFL radar with a berth in the final four.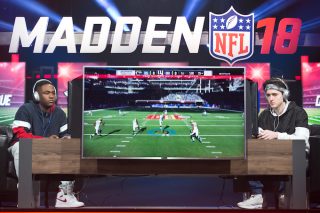 Young Kiv watched Conference Championship round game two between Drini and Eli "True" Clayton, which after a close start turned into another blowout in Drini's favor by a score of 31-7.
Drini scored a touchdown on his first drive, and quickly went up 14-0 on a pick-six on True's first possession. Drini said before the game that, "If he's going to beat me, he's going to have to beat me off the pass." With the two-possession lead, Drini forced True to throw for much of the remainder of the game, and his plan worked. The highlight for True was a 65-yard rushing touchdown with 89 OVR Ultimate Legends RB Barry Sanders in the first half.

True was able to show off some of his signature stick-work, but that would be the only scoring he could muster up the entire game. Drini ran away with the lead in the second half, with a few key interceptions helping to pad his box score. When it was all over, the stage was set for one of the most epic Madden NFL 18 matchups in history.
Time For A Rematch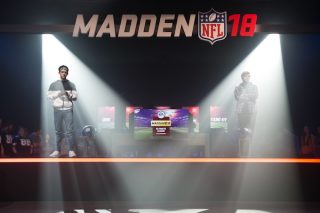 Two of the youngest to compete at the highest level, Drini and Young Kiv were set for a Madden NFL 18 Challenge rematch, as Drini won the Challenge title last December, hoisting his first MCS-era title belt with a resounding win over Young Kiv.
The Madden Bowl title game kicked off on ESPN2 with the world watching. The two competitors exchanged rushing touchdowns early, and at halftime the score was knotted up at 14 points apiece. Then we started the second half, one that won't soon be forgotten.
For brevity's sake, let's fast forward to the fourth quarter. Young Kiv took a 21-17 lead with a short rushing touchdown by 86 OVR Most Feared HB Derrick Henry. On Drini's ensuing possession, he was driving and trying to chew some clock with about three minutes to play. On a fourth-and-seven from Young Kiv's 31-yard-line, Drini threw a pass that bounced off the helmet of one of his offensive lineman, and Young Kiv intercepted it on the ricochet with Vic Beasley Jr. But not long after, Kiv faced his own fourth-and-long, and dropped back to throw. He launched a pass to the right that Drini picked off and returned inside the 20-yard line. With 1:39 on the clock, Drini took a 24-21 lead on a passing touchdown to the front corner of the end zone. It was getting ridiculous, but it wasn't over.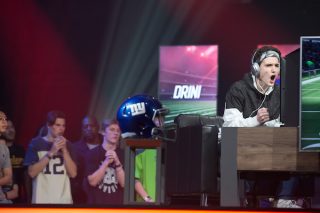 With three timeouts and just under two minutes to play, Young Kiv's fate was in his own hands. He surgically marched down the field, getting closer to scoring position with each play. Young Kiv made it into field goal range with about a minute left, but a field goal would only tie it. He kept moving closer to the end zone and competed a pass inside the 10-yard line with under 30 seconds to play. Then, on a draw play to the right side, Young Kiv handed off to Derrick Henry, trucked a defender at the one-yard line, and fell into the paint, taking a 28-24 lead with 17 seconds on the clock. The weight of the moment was clear, as Kiv pumped his fist vigorously and yelled out "Come on!"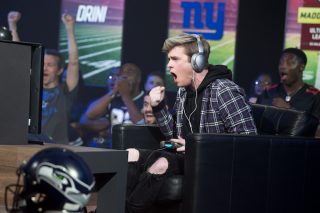 Drini had one timeout, and 17 seconds to play with. On first-and-10 from his own 44-yard line, Drini launched a deep ball the length of the field to 95 OVR Core Elite WR Tyreek Hill. Somehow, Hill managed to come down with it at the six-yard line, and the place went nuts. Young Kiv couldn't believe it. By the look on Drini's face, he couldn't believe it either. So, with three seconds to play, Drini had one shot to win the game, down four points. He dropped back, and unloaded a high pass to Tyreek Hill in the back of the end zone. Hill high-pointed it, got both hands on the ball, but he dropped it as he came back to the turf. And the game was over.

It was an absolutely unbelievable ending to one of the most intense title games in Madden NFL history. As the confetti fell, Young Kiv raised the title belt above his head. He was barely able to speak, and the emotions you could see running through displayed how much the win really meant to the Seattle native.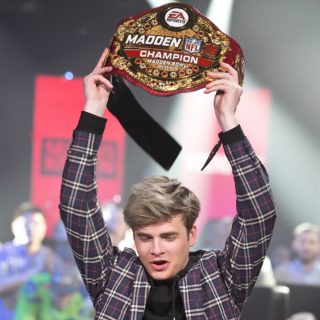 During Kiv's post-game interview, guest broadcaster and Pittsburgh Steelers' wide receiver Juju Smith-Schuster asked the champ for a rematch from their game earlier in the day on NFL Network's "Good Morning Football." Kiv's reply? "I mean, if you wanna get smacked again on TV!"

That was Young Kiv's signature swag coming out, perhaps somewhat elevated just moments after his Madden Bowl victory.

Gotta love a pro Madden NFL 18 gamer talking trash to an NFL wideout. It's cool, they're still pals.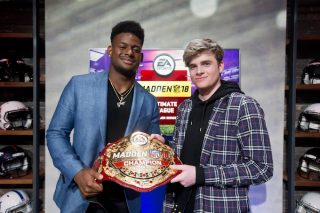 That does it for the Madden NFL 18 competitive season. From the Madden Classic to the Challenge to the Club Championship and the first-ever Madden NFL 18 Ultimate league, safe to say this year was a huge success. Here's a fitting sign-off from the Madden NFL 18 Champion, Young Kiv. Congratulations, champ!
---
–Matt Franciscovich (Follow Matt on Twitter @MattFranchise)
What is Madden Ultimate Team (MUT) mode in Madden NFL 18? Dig in here for more information on how to build your own ultimate Madden lineup. Customize your MUT team and support your favorite Madden Ultimate League competitors with the Gameday Competitors Program.