The 2019 NHL® trade deadline is quickly approaching, and fans from around the league are hoping their team will make a big move for a star player to help push them through the playoffs. The same can be said for your Hockey Ultimate Team™ in NHL 19, thanks to the Trade Deadline Event running February 15 to March 1. Featuring special items celebrating players who have been traded at the deadline in years past, along with updated items for those who move this year, there's plenty of moves to be made.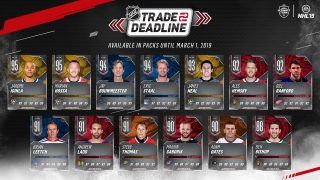 Deadline Deals

Heading into the final months of the 2018-2019 NHL season, the Trade Deadline Event introduces player items that can give your team a significant boost in the talent department. At the start of the event, 11 items will be introduced in packs featuring players involved in blockbuster moves at past NHL trade deadlines, including:
92 OVR Bill Ranford, G – Detroit Red Wings (1999)
90 OVR Adam Oates, FW – Philadelphia Flyers (2002)
91 OVR Steve Thomas, FW – Anaheim Ducks (2003)
91 OVR Brian Leetch, D – Toronto Maple Leafs (2004)
91 OVR Andrew Ladd, FW – Chicago Blackhawks (2008)
95 OVR Marian Hossa, FW – Pittsburgh Penguins (2008)
93 OVR James Neal, FW – Pittsburgh Penguins (2011)
95 OVR Jarome Iginla, FW – Pittsburgh Penguins (2013)
94 OVR Jay Bouwmeester, D – St. Louis Blues (2013)
92 OVR Ales Hemsky, FW – Ottawa Senators (2014)
94 OVR Eric Staal, FW – New York Rangers (2016)
In addition to these 11 classic items, most players moved during this year's deadline on February 25 will receive special item releases in HUT packs showing-off their new team, with stats that reflect how they've performed this year.

Peter Forsberg Set

Traded from the Philadelphia Flyers to the Nashville Predators at the 2007 trade deadline, Peter Forsberg will also be available during the HUT Trade Deadline Event, with a 90 OVR item that can be acquired by completing HUT Challenges. You'll be able to upgrade this Forsberg to a Master Player item by completing the Master Set, giving you one of the most powerful player items available in HUT. Read more about that below.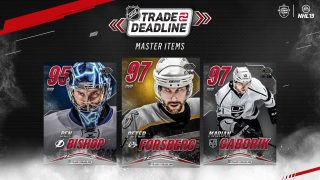 Master Set Players

Three Master Player items will be available for you to acquire, but you'll need the right pieces to pull off the transaction, as these items are extremely powerful. Fortunately, there's more than one way to close the deal, as you have the option of trading in a high number of Trade Deadline Collectibles to acquire the Master Player, while your second option is to trade in the required player item along with a reduced number of the same Collectibles. You can find the Trade Deadline Collectibles in Trade Deadline packs, while the sets and their requirements are as follows:

Peter Forsberg Set
Acquire 97 OVR Peter Forsberg Nashville Predators player item
Trade in 20 Trade Deadline Collectibles OR 15 Trade Deadline Collectibles along with the 90 OVR Forsberg Trade Deadline item awarded with the completion of required HUT Challenges
Extra Forsberg Set: Trade in six Trade Deadline Collectibles along with the 94 OVR Forsberg Legend item
Marian Gaborik Set
Acquire 97 OVR Marian Gaborik Columbus Blue Jackets player item
Trade in 20 Trade Deadline Collectibles OR 15 Trade Deadline Collectibles and 90 OVR Marian Gaborik Trade Deadline item found in packs
Ben Bishop Set
Acquire 95 OVR Ben Bishop Ottawa Senators player item
Trade in 20 Trade Deadline Collectibles OR 15 Trade Deadline Collectibles and 88 OVR Ben Bishop Trade Deadline item found in packs
Don't miss out on this unique opportunity to add some incredibly powerful items to your team, and for more tips on HUT, check out our deep-dive guide.
---
Stay up to speed with NHL 19 on Facebook, Twitter, and Instagram.

Get your copy of NHL 19 now, and start your journey from the ponds to the pros.

Sign up today to receive the latest NHL 19 news, updates, behind-the-scenes content, exclusive offers, and more (including other EA news, products, events, and promotions) by email.