With football's greatest event fast approaching, international content creators La5ty, Bateson87, TONIEMCEE, GoodGameBro, FIFAtazztics and LeProf from the global FIFA community discuss celebrating the World's Game during the 2018 FIFA World Cup™, their personal predictions, top scorers for the World Cup FIFA 18 update, previous favorite World Cup moments and more.
What's your prediction for your country's squad for this year's 2018 FIFA World Cup Russia™ tournament?
TONIEMCEE: Spain have a decent team and we play very well. I think we will probably get to the semi-finals – and if the motivation is right, we could even win the World Cup!
FIFAtazztics: Germany won the last FIFA World Cup in 2014 and I hope that we win again this year, but I think it's going to be a hard task.
GoodGameBro: Unfortunately, the USA aren't in this year's tournament, so I will be supporting Brazil instead, because they are exciting to watch and Neymar is one of my favorite players.
La5ty: I hope England make it to the Quarter Finals.
Bateson87: I think we (England) are going to get eliminated in the Group Stage, while it would be great if we didn't, I don't think England can make it into the Knockout Stage.
LeProf: We are not the favourites this year, but I hope that France will make it to the semi-finals.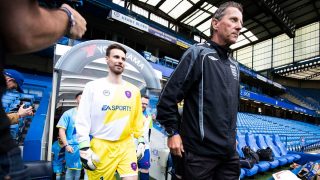 FIFAtazztics hopes to see Germany win this years tournament
In your opinion, who should your national team manager select in their starting eleven?
TONIEMCEE: I like Julen Lopetegui's starting eleven but think he should include Sergi Roberto as right-back. For strikers, he should include Iago Aspas, as he's very different from the other attackers on our squad like Diego Costa or Álvaro Morata.
FIFAtazztics: I think midfielder Toni Kroos, who plays for Real Madrid, should be included and I'm going to be a little controversial and say our coach Joachim Löw should also let Marco Reus play in the tournament, as he is a very skilled football player.
GoodGameBro: Brazil's coach Tite should definitely include Daniel Alves and Neymar in his starting eleven.
Bateson87: Raheem Sterling, along with Harry Kane as England Captain.
LeProf: For the French starting eleven, Didier Deschamps should include Antoine Griezmann, Olivier Giroud, Dimitri Payet, and Thomas Lemar.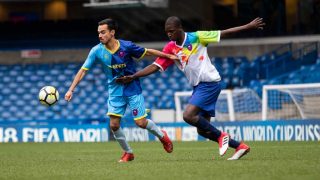 LeProf (right) hopes for a solid French starting eleven
How will you be celebrating this year's World Cup?
TONIEMCEE: I'm going to be in Russia for the first match and might even go to the final, which would be such a unique experience for me!
FIFAtazztics: Since the 2006 FIFA World Cup in Germany, public viewing of football tournaments on big screens outdoors has become really popular. I've recently moved to Berlin so maybe this is also a good opportunity to see some of the city's cool locations and have some enjoyable moments.
GoodGameBro: I'm planning to watch the World Cup with my family and have some friends come over to watch matches too. I'll also tune in at work when my boss isn't looking!
La5ty: I'll go to the pub with a few friends to watch all the England games and play the World Cup update for FIFA 18, trying to simulate how England will perform during the tournament.
Bateson87: I have a six-year-old son, so it's his first proper year of enjoying football. He's been watching a lot of Liverpool games this season and is a big fan of their forward, Mohamed Salah - so now I need to convert him into an England fan. If that doesn't work and he becomes an Egypt fan, then…this will be an interesting World Cup at home (laughs).
LeProf: I will be watching all of the France matches with friends and all of the Senegal's fixtures too, because I am also Senegalese.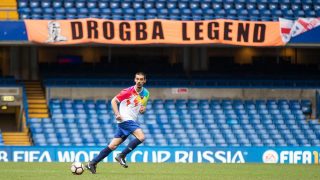 GoodGameBro plans to watch the World Cup with family and friends
What's your all-time favourite World Cup moment?
TONIEMCEE: Well Spain has only won the World Cup once, so for me it was during the final minutes of the 2010 FIFA World Cup Final at the FNB Stadium in Johannesburg. Andres Iniesta struck a dramatic winner late in extra time and we won 1-0 against the Netherlands.
FIFAtazztics: Germany winning the 2014 World Cup Final against Argentina, at the Maracanã Stadium in Rio de Janeiro. Mario Götze scored the only goal of the match with a left-foot volley, so definitely my favorite all-time moment.
GoodGameBro: The US team doesn't have a lot of World Cup moments but for me it was during the 2010 FIFA World Cup Group game, when Landon Donovan scored a goal during injury time securing a 1-0 victory over Algeria.
La5ty: Robin Van Persie's flying header when Netherlands thrashed Group B rivals Spain in 2014.
Bateson87: Michael Owen's goal against Argentina in the 1998 FIFA World Cup at the Stade Geoffroy-Guichard, Saint-Étienne. It didn't quite work out for England in the end, but that was such an amazing goal to watch.
LeProf: Here are my top two memories: The first was in the final of 2006 FIFA World Cup in Germany when Zinédine Zidane scored a penalty for France against Italy, by chipping the ball over goalkeeper Gianluigi Buffon. My second favourite memory is from 1998 when we beat the then defending champions Brazil 3-0 at the Stade de France.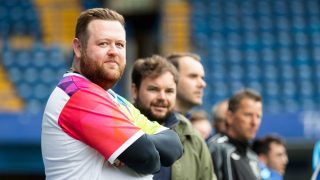 La5ty recalls Robin Van Persie's flying header as his favorite World Cup moment
What could your national squads learn from you and your in-game World Cup team?
TONIEMCEE: That Spain don't have to pass the ball as much as they do now. I find myself passing the ball too much when I'm in the lead sometimes and can end up losing matches.
FIFAtazztics: I think to be good at playing FIFA you need a lot of composure, like me, to stay calm in different gameplay situations, but I think the German footballers are already doing a good job composing themselves.
GoodGameBro: Play at a crazy fast pace and shoot as much as you possibly can. I'm not very good at defense but I just shoot a lot. So, Brazil: just shoot a ton – and you will win!
La5ty: Get some Brazilian players in the England squad!
Bateson87: Take a lot of long shots, because that is what seems to work for me in FIFA. After all, you can't score without shooting.
LeProf: Maybe they can learn some of my tricks and skills, but they don't need to because it's not their playing style, after all the French team is not the Brazilian team.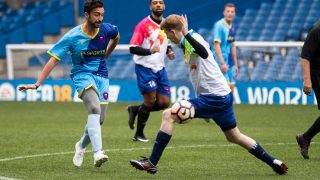 TONIEMCEE (left) hopes Spain will control the ball
Who do you think will be your top scorer when playing the World Cup FIFA 18 update?
TONIEMCEE: Cristiano Ronaldo for sure!
FIFAtazztics: Cristiano Ronaldo!
GoodGameBro: Definitely Neymar!
La5ty: On current squads, it's got to be Cristiano Ronaldo. Everyone wants to play with him. He is insanely good.
Bateson87: Of the new FIFA Icons, Gary Lineker, who has a 92 rating.
LeProf: Easy, that will be Olivier Giroud.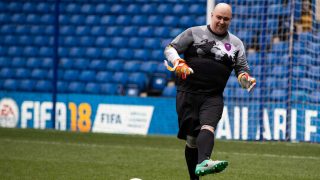 Bateson87 feels Gary Lineker will be his number one scorer
Complete the sentence: Your country will win the World Cup, if….
TONIEMCEE: …Isco is on the pitch.
FIFAtazztics: …Germany have the right team chemistry and our key players are fit and fulfil their potential.
GoodGameBro: …Neymar is healthy to play for Brazil.
La5ty: …No one else turns up to play against England!
Bateson87: …The team put the ball at Harry Kane's feet - five times per game.
LeProf: …Paul Pogba plays at his best.
If you could make up a FIFA 18 Ultimate Team for the World Cup with players from any country and any era who would be in it?
TONIEMCEE: David de Gea, Sergio Ramos, Laurent Blanc, Kyle Walker, Marcelo, N'Golo Kanté, Lothar Matthäus, Paul Pogba, Ronaldinho, Ronaldo Nazário and Cristiano Ronaldo.
FIFAtazztics: Naturally the greatest football player of all time – Pelé, Franz Beckenbauer, Lothar Matthäus, Cristiano Ronaldo and Ronaldinho.
GoodGameBro: Ronaldinho just because he was such an incredible player to watch, Wayne Rooney, Lionel Messi and of course Neymar.
La5ty & Bateson87: Our Ultimate FIFA World Cup team would be: Manuel Neuer, Marcelo Vieira, Joshua Kimmich, Carles Puyol, Bobby Moore, N'Golo Kanté, Ronaldinho, Paul Pogba, James Rodriguez, Miroslav Klose, Cristiano Ronaldo with Gareth Southgate as manager.
LeProf: Ronaldinho, Thierry Henry, Andrea Pirlo, Gigi Buffon, Pelé, Paolo Maldini, Roberto Carlos, me (laughs), Ronaldo - 'El Fenômeno', Cristiano Ronaldo and Gennaro Gattuso.
Stay in the conversation of all things EA PLAY: Read our blog, follow us on Twitter and Instagram and Like us on Facebook.