By Adam Tanielian, Sr. Director Global Community Engagement
At EA, we have a long-held belief that games are for everyone. Among many things, that means a safe and enjoyable experience without the fear of harassment or bullying. Unfortunately, online toxicity and bullying have become a regular issue for players. According to Ditch the Label, an anti-bullying organization and partner of ours, nearly 60 percent of players have been bullied in an online game. That's just not acceptable.
This issue isn't new, but it is getting more intense. We've taken steps in addressing issues we've seen in the community through new policies, technology and partnerships with third-party organizations like Ditch the Label. But this is a global conversation. If we're going to truly fight online toxicity, we have to do it together.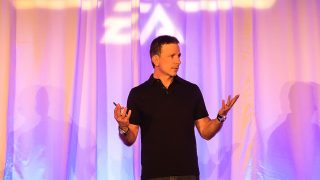 As a first step in our commitment to improving the player experience through concrete actions that combat toxic behavior, we convened the Building Healthy Communities Summit at EA PLAY 2019 where we welcomed more than 200 Game Changers from 20 countries as well as EA teams and experts like Ditch the Label CEO Liam Hackett, YouTube star iJustine, and Kristine Steimer and Brittney Brombacher from What's Good Games. This Summit allowed us to bring key members of the community – our Game Changers – into an honest and open discussion about online toxicity, talk about how it has affected our daily lives and work, get feedback on the policies and proposals, and work together to build a community we all want to be a part of.
The Building Healthy Communities Summit is part of our sustained efforts to improve the player experience by combating in-game behaviors that make people feel threatened or unsafe. Our goal is to find solutions that work. We believe wholeheartedly that making a meaningful difference demands ongoing input from the people that love our games. We want to solve this challenge with our players, not just for them.
Here is a quick look at what we discussed during the Building Healthy Communities Summit and the commitments EA is making to create a better community for our players.
Everyone has experienced bullying or witnessed toxic behavior
Liam Hackett brought the issues into focus for summit participants by sharing his own experience being bullied as a teen and explaining the mission of Ditch the Label: to combat bullying by tackling the root issues and to support young people aged 12-25 who are impacted.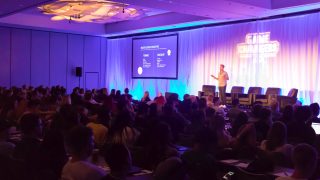 Hackett presented research specific to gaming, which shows more than half of players (57 percent) have been bullied in an online game and almost three quarters (74 percent) thought bullying in games should be taken more seriously. Game Changers in attendance validated these findings by raising their hands in agreement. While this negative experience has largely been normalized up until this point, this is a time to challenge the status quo in pursuit of a safer, more inclusive gaming experience.
Hackett was joined by iJustine, Kristine Steimer and Brittney Brombacher for a panel discussion on toxicity, diversity and adversity. Brombacher provided her tips for overcoming the effects of bullying, Steimer explained the benefits of creating and enforcing clear and specific guidelines to rid her community of toxicity, and iJustine shared her own experiences and frustrations dealing with threatening and unwelcome behavior.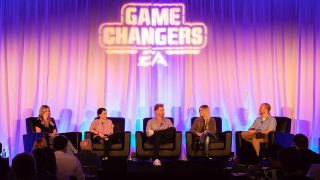 The personal accounts that these community leaders shared resonated with our attendees, and coupled with Liam's talk and research from Ditch the Label, it was clear there is a strong appetite in the community for change and creating safer communities for everyone. We make games to bring people together, to have fun, and to build positive and strong communities that everyone can enjoy. And to hear these stories resonated deeply with us as well, which is why it was important for us to hear directly from the community about the policies and efforts we are currently working on, and doing so early enough in the process for us to take action on the feedback that was provided.
EA efforts underway
EA is already doing things to help combat bullying and toxicity in games. For example, over the past three years we have worked to reach youth through campaigns like Gamers Unite for Equal Play, which last year reached almost 110,000 young people in the UK and the US. We also introduced an updated public reporting tool available to all players. While we have made strides, we believe with our player communities' help, we can continue to improve the player experience.
As the voices of the community, the Summit allowed Game Changers to pressure test our policies and proposals with feedback directly from players who are at the center of online conversation around our games. In addition, we were able to have direct dialogue with Game Changers who wished to work with us long term on our Building Healthy Communities Initiatives.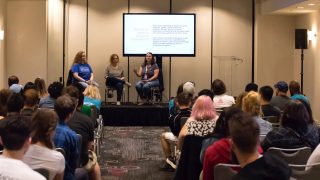 To this end, the Summit focused on understanding the problem and identifying prevention and reinforcement tactics, through a series of breakout sessions:
Toxicity Detection and Technology: We reviewed player feedback about their experiences with disruptive in-game behavior, including the type, prevalence and ranking of what they believe to be most concerning. Game Changers provided detail on what they see in their communities, what is concerning them and possible solutions.
EA's Inclusion Framework: We asked participants to provide input into how EA can improve our inclusion toolkit, which we introduced two years ago to help developers create games that reflect the diverse communities they engage through games.
EA's Safe and Fair Play Project: We discussed the factors that allow, and in some cases, encourage bullying and toxicity to thrive and how a zero-tolerance policy might affect change across EA games and the industry at large.
Similar to our game development process, these closed door sessions allowed us to bring our players in early in the process for honest feedback that can be pressure tested by the people who run and live in the communities themselves. The personal stories and opinions that were shared will help as we move forward in the coming months on each of these initiatives, and we'll be sharing feedback in actions in the coming months on how we are addressing.
What's next?
We have a long road ahead, but we are thrilled with the energy and knowledge sharing that we witnessed at our inaugural Building Healthy Communities Summit. A big thank you goes out to everyone who participated and pledged their support for positive change.
Combating in-game bullying and toxicity is a major focus for us across all of EA. We want to build on existing efforts and increase our contribution to our community through actions that make a difference. As shared at the close of the Summit, our commitments include:
Working with our players to develop a Building Healthy Communities Player Council that will provide ongoing feedback into EA programs, policies, and platforms, including additional avenues for community feedback.
Exploring new toxicity tools and in-game features to more easily manage and effectively report disruptive behavior in our services.
Keeping the community informed on a quarterly basis about the progress we are making and new initiatives underway to mitigate toxic communities through periodic Community Health Reports.
We are committed to the challenge. We have to be. We've built amazing communities in and around our games, and we're proud to be part of the global community that exists between game players around the world. We have to make it safe and fun for everyone. We look forward to working with you to make that happen.