Each week, we wind up seeing a new NBA story steal the show. We could choose between a number of stories, but the first is obviously the Jimmy Butler saga coming to an end – for now. I feel like we can't talk about the deal without giving some love to Robert Covington and Dario Saric. Covington was the first player who really started the rebuild in Philly and has been the actual definition of rebuild for this team going from an overlooked player to an All-NBA Defensive player. Saric surprised some folks, me included, with his play last season and, though he's struggled a little, he's going to make for a heck of a second-fiddle in the frontcourt with Karl Anthony-Towns in Minnesota. As far as Jimmy's fit in Philly, I talk about some of my concerns on the offensive end below when I preview their matchup with the Sixers.
We could take some time to mull over what's going on with the Warriors' locker room, but this is a team who, even while fighting, still has the pedal on the Western Conference and is easily the best team in the league. Whatever beef Kevin Durant and Draymond Green might have, it's likely nothing that can't be ironed out with a nice little winning streak. How this plays heading into the offseason? Who knows. What we do know for sure is that the Warriors have a competitive drive that'll make them feel like they had a failed season should they fall short of another ring. So, I'm choosing not to dwell on it.
Like we do each week, we're going to take some time to analyze top matchups and storylines for the coming week. With Denver coming back down to earth and Milwaukee still surging, we have a great matchup ahead. We take a look at the new-look Sixers going against one of the best on-ball defenders and Anthony Davis, as well as two tough Western Conference foes squaring up. 
Denver Nuggets at Milwaukee Bucks
Date and Time: November 19 at 8:00 p.m. EST
It was only a few days ago when the Nuggets started off as the hottest team in the NBA – in fact, they started off at 9-1 on the season. All of a sudden, they're dropping games against teams they should be beating like the Griz and Nets by one possession, but losing by nearly double digits to good teams like the Rockets and Bucks. The biggest difference is the drop-off in defensive efficiency since the hot start they had and now. Through those ten games, they were the top defensive team in the league – something I only saw evading them when Isaiah Thomas were to be healthy and returning to serious minutes. However, they got very unlucky with Will Barton's injury and have been struggling on defense down low.
In the losses I mentioned above, they allowed 18 points to Jarrett Allen (Nets), 28 points to Brook Lopez (Bucks), 40 combined points by Clint Capela and James Ennis (Rockets), and 40 combined by Marc Gasol and Jaren Jackson (Grizzlies), too. I'm not saying it's time to get worried, but the Nuggets need to figure out how to help their low-post defense quick before teams start to focus on attacking the low post.
For Milwaukee, they're still playing some spectacular basketball. They're fifth in pace, they're putting up over 120 points a night, and they're top-five in both offensive and defensive efficiency. I'd like to say it's the jump in shooting from Khris Middleton, or the focus we're seeing out of Eric Bledsoe. It  could also be Giannis turning into a full-blossomed star, or even veteran leadership by Lopez mixed with guys like John Henson learning how to shoot. My strongest theory? This is the Coach Mike Budenholzer effect. We're only four seasons removed from an Atlanta team that went 60-22 under Coach Bud. Back with a dangerous team, the sky really could be the limit for these Bucks. I see the Bucks continuing their run, and they do it by attacking the paint early and often while drawing Denver's bigs from the paint because of big-man versatility.
Winner: Milwaukee Bucks
New Orleans Pelicans at Philadelphia 76ers
Date and Time: November 21 at 7:00 p.m. EST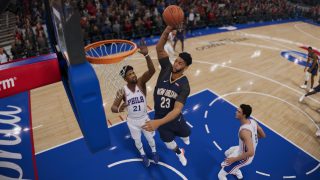 Let's take ourselves back five years – the Sixers had Jrue Holiday on the heels of his first All-Star selection at only 22, former second-overall pick Evan Turner, a 24-year-old Thad Young, and many more bright, young players. After beating the Bulls in the first round, the organization decided to start fresh and create what we now know as the process. Holiday's health struggled for the next few seasons in New Orleans where we'd see flashes of what could've been between himself and Anthony Davis, but it's really amounted to something special this season. Holiday, still only 28, is averaging a career-high in points, assists, steals, and rebounds. Meanwhile, he's taking over 15 shots a game and hitting upwards of 47% from the field and a 55.4% true shooting percentage. On the defensive end, he's holding top guards like Kyle Lowry (four points on 1-9 shooting), Devin Booker (12 points on 4-12 shooting), and even James Harden (18 points on 6-15 shooting) to slow games.
When you look at Philly, you have a team who now boast another star in Jimmy Butler to their already-solid team. What worries me about this team is their lack of perimeter shooting, though. It's obviously what damage can be done by Ben Simmons off-the-dribble, Joel Embiid inside the arc, and Jimmy on both ends, but Robert Covington and Dario Saric were two-thirds of this team's solid shooting. Landry Shamet has played well in his own right, but J.J. Reddick has been their top option from distance and about the only player who can consistently hit shots. I think this team got better defensively, but I give the edge in pace and hustle to the Pels at this point. The Sixers will get there, in my opinion, but they still have some chemistry issues to work on.
Winner: New Orleans Pelicans
Los Angeles Clippers at Portland Trail Blazers
Date and Time: November 25 at 9:00 p.m. EST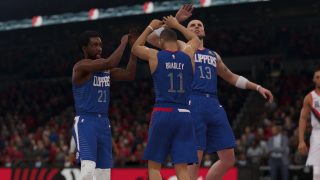 These are two teams that are finding ways to surprise everyone – the Blazers do it every year while the Clippers are turning what people thought would be a surefire lottery season into a competitive one. Let's take a look at the Blazers first – they've taken a major step up defensively this season and both Damian Lillard and C.J. McCollum have been shooting the ball very well thus far. Al-Farouq has been struggling shooting the ball, but has actually been impressive from three-point range and makes a major impact on the boards and on defense. Armed with shooters off the bench like Seth Curry and Nik Stauskas, and very steady double-double numbers by Jusuf Nurkic, this team may not be super exciting, but they're solid and can win on any given night.
The Clippers have literally just been gamers. They're not dominating on offensive or defensive efficiency, they're not being led by one player who is putting together an unbelievable season, but they're grinding games out and pulling out the W's. While we can talk about Tobias Harris putting up 20 and nine with 50% from the field and 40%+ from three-point or Danilo Gallinari staying healthy and combining with Lou Williams for almost 40 a night, the real story here is with Shai Gilgeous-Alexander and Montrezl Harrell.
Gilgeous-Alexander, the Clippers' first-round pick, has been nothing short of spectacular on both sides of the ball. At only 20 years old, he's getting full-starters minutes for a playoff team already. In the games where he's putting up 35+ minutes, he's also putting up over 17 points, five boards, a few assists, and almost two blocks and a steal. That is incredible production for a first-year guard just a few games into his career. While the Clippers are led by their vets, they're fueled by the energy from their young players. As long as the team can stay healthy, I don't see any reason why they don't force a couple teams out of the playoffs. I really like this Clippers team and their ability to finish out games as they figure out their rotation and the younger guys find their footing within the team. I see the Clippers shocking the Blazers and stealing one on the road.
Winner: Los Angeles Clippers

– Rahul Lal (Follow Rahul on Twitter @rlal95)

---
Stay in the conversation, like us on Facebook, and Follow us on Twitter.
Are you ready to get out there and make your mark on the court? You can now buy NBA LIVE 19 here.
Sign up today to receive the latest NBA LIVE 19 news, updates, behind-the-scenes content, exclusive offers, and more (including other EA news, products, events, and promotions) by email.