It's been such a long offseason, but we've toughed it out and we're finally ready to start the 2018-2019 NBA season. As a gift to us, the NBA gods have blessed us with a first week full of incredible matchups and plenty of storylines to get us going. In this column (which we'll be running regularly), I'll take a look at some of the top games of the week to keep an eye on and give my predictions on how each will play out!
Philadelphia at Boston
Date and Time: 10/16 at 8 p.m. EST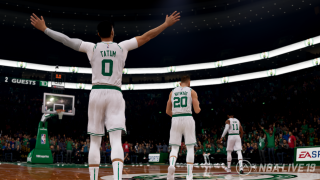 This is the game we get to kick off the season? Thank you, Adam Silver! Last season, we saw the 76ers' season ended by the Boston Celtics in the playoffs in what was one of the most entertaining series all year. Both of these teams feel like we haven't seen their best – for Boston, it's obvious, we haven't gotten our chance to see Gordon Hayward suit up outside of a few minutes last season before his unfortunate injury. Bringing back a healthy Kyrie Irving with last year's gluttony of blossoming talent gives Boston the deepest team in the league; they can truly go ten-players deep with their rotation.
NBA LIVE 19 cover athlete Joel Embiid also has something to prove this year after he felt he should've won the 2017 Defensive Player of the Year award. Not only have we seen Embiid's game expand to include better range, but he's become more polished with each month that he's been in the league. Also, Markelle Fultz is finding his shot and confidence, and pairing in the backcourt with fellow former top-overall pick Ben Simmons, who's primed to bust out as a superstar this season – the duo might create a top-end backcourt by season's end.
While Boston is the better team, they could find some trouble in the early part of the season trying to figure out how the rotations should work. Personally, I'm expecting to see a Kyrie Irving, Jaylen Brown, Hayward, Jayson Tatum, and Al Horford starting unit, but that leaves talented players like Terry Rozier, Marcus Smart, Marcus Morris, Aron Baynes, and Semi Ojeleye fighting for minutes, too. It might not be in week one but watch out for Guerschon Yabusele to warrant minutes this season as well. The Sixers are coming in healthy but may not have the firepower right off the bat to beat a hyped-up Boston Celtics looking to set the tone in the Eastern Conference with LeBron no longer occupying the top seed.
Winner: Boston Celtics
Golden State Warriors at Utah Jazz
Date and Time: 10/19 at 10:30 p.m. PST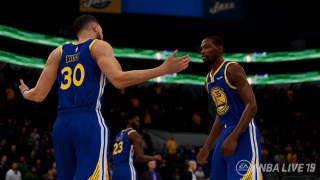 Expectations are lofty for the Utah Jazz this season. While they were something of a downplayed team last year after losing Hayward, the rise of Donovan Mitchell created a storybook season for the Jazz who all-of-a-sudden feature a franchise player with a Defensive Player of the Year in Rudy Gobert, and a heck of a supporting cast. According to Hollinger's Defensive Efficiency ratings, Utah came in at number two in the league for efficiency (they narrowly trailed Boston). While Rudy is the anchor down low, there are a number of perimeter defenders who can man-up on anyone and it's impossible to ignore the coaching of Quin Snyder, who should be regarded as one of the top coaches in the league.
While I'm very high on the Jazz, let's be reasonable here. The Jazz have something to prove but the Warriors play every game as if they have something to prove, even if they don't. They obviously landed DeMarcus Cousins this offseason, but he's still got some time before he's healthy enough to play coming off an Achilles injury. That said, the Warriors are still the Warriors and should put out Steph Curry, Klay Thompson, Kevin Durant, and Draymond Green on opening night. Expect Kevon Looney, Damian Jones, or Jordan Bell to slot in at the five when the Warriors face the Jazz. With the versatility and obvious offensive and defensive dominance the Warriors have, it's easy to see them prevailing in what should be a challenging contest. The Jazz will be great, but the Warriors will play like champions.
Winner: Golden State Warriors
Houston Rockets at Los Angeles Lakers
Date and Time: 10/20 at 10:30 p.m. EST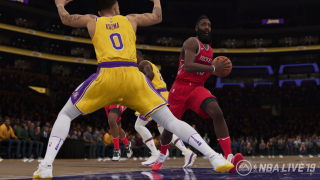 The top storyline of the season is finally materializing with LeBron James suiting up as a Laker. With all of the incredible history and the long list of legendary players in purple and gold, LeBron will be the most talented based on skill and ability. Just so everyone knows, I'm biased as a Lakers' fan. My last name is Lal, something I always believed as a kid was thought of because my dad was also a huge Los Angeles Lakers' fan (spoiler: it's actually just my family's last name and does not stand for the abbreviation of my favorite team). This anecdote should tell you exactly how painful it is for me to say that I see the Lakers starting off a bit slow. The Lakers are going to make the playoffs; I could even see a scenario play out where they get hot and figure out a way to lock up homecourt advantage as a three or four seed, but game two of the season against a team that's operating as a well-oiled machine isn't the way to an easy win.
I'm a little lower on the Rockets this season than I was last, but that's not to say they won't be a great team. Health permitting, the Rockets should still find their way as the second seed in the Western Conference. We've seen them lose a lot in terms of defense with both Luc Mbah a Moute and Trevor Ariza leaving, but they still have great offensive firepower and both P.J. Tucker and Clint Capela are still top defenders at their respective positions. While LeBron and the Lakers will figure it out, the Rockets will have the chemistry that's still being worked on in Los Angeles. One thing is for sure, though, this is going to be high-scoring with two fast-paced teams – making the game a must-watch.
Winner: Houston Rockets
- Rahul Lal (Follow Rahul on Twitter @rlal95)

---
Stay in the conversation, like us on Facebook and Follow us on Twitter.
Are you ready to get out there and make your mark on the court? You can now pre-order NBA LIVE 19 here.
Sign up today to receive the latest NBA LIVE 19 news, updates, behind-the-scenes content, exclusive offers, and more (including other EA news, products, events, and promotions) by email.