We're right around the corner from the 2018-2019 NBA season officially kicking off and, with it, we've decided to dig into the top teams and see how they play in NBA LIVE 19. Now, before we do that, every season carries its own hype and storylines – there are major ones such as LeBron James taking his talents to Hollywood, DeMarcus Cousins becoming a member of the Warriors, even non-superstars such as Carmelo Anthony joining the Rockets, the Celtics regaining health, whatever the heck is going on in Minnesota with Jimmy Butler, and a host of other moves.
But we're only analyzing the top three teams in this piece as per their NBA LIVE 19 official beginning-of-season ratings. However, don't sleep on teams that didn't make the cut, such as the Raptors. I may be in the minority but, watching preseason basketball, I instantly remembered just how dominant on both sides of the ball a healthy Kawhi Leonard can be – mix that with a group of two-way players and veteran talent and the Raptors might just be in the mix in the Eastern Conference. Also, cover athlete Joel Embiid and the 76ers were only a few clutch plays away from getting an Eastern Conference Finals' berth – they'll be looking to hit the next gear this season.
Sure, teams also lost guys – we saw the Thunder lose Melo and the Pelicans lose Boogie but sometimes star players can take teams to new heights with added touches and offensive/defensive freedom. From what we saw out of Jrue Holiday last season and the trajectory that Anthony Davis has had over the last few seasons, we could see an underrated team in New Orleans this season, as well as a more efficient team in Oklahoma on the backs of Russell Westbrook, Paul George, plus getting defensive stud Andre Roberson to match with their already-feisty team. The Jazz, Bucks, Pacers, Nuggets, and Wizards sometimes come across as having a main threat and a bit thin beyond that, but those teams all have something to prove this season, making for a season of competitive basketball led by their respective stars. But this is a top teams' piece, so let's get into the top three according to NBA LIVE 19, and talk about how you can affectively use them this season!
Golden State Warriors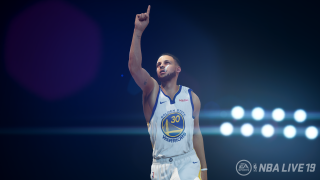 Is this a surprise to anyone? If so, you haven't been watching much basketball the last several years. The Warriors have been the best team in hoops for some time now, and they've done it developing their drafted players a few years back, allowing Steph Curry, Klay Thompson, and Draymond Green to create a championship-worthy core on their own timelines, and then maximizing with big team additions such as Iggy, then superstars like Kevin Durant and DeMarcus Cousins.
Now, it's unclear when Boogie will be healthy enough to return but, make no mistake, he can add something to a team that really never needed anything. From a personal standpoint, this was a great move for Cousins – he gets the chance to not feel the need to rush back to the court, ensure he's healthy, won't be as heavily relied on to produce upon coming back, and can get ready for next offseason's free agency period.
We all know how the Warriors play: they're fast, they're always pushing the pace, they shoot at will, and they play tough on defense. If you're playing with them on NBA LIVE 19, hit the green on the shooting meter and you're going to wind up raining threes on your opponent. Another underrated aspect for this team is their pick-and-roll/pick-and-pop versatility. In almost any lineup you choose to run, you have players capable of both running the lane down to the basket but also tricking the defense by getting a jump shot from 15-feet out. Safe to say that they're the top team in NBA LIVE, and it's not going to be easy to knock them off.
Houston Rockets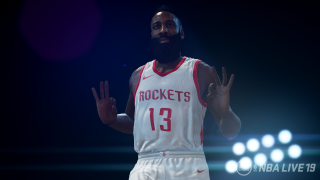 The Rockets were last year's second-best team – in fact, they were a Chris Paul injury and four quarters away from actually upsetting the Warriors. I personally believe that with their momentum and how they were playing down the stretch, Houston had a legitimate chance in that Game Seven. This season, they find themselves in a position where they need to do it all again with a new-look team.
Let's start with the negatives first – the Rockets lost a lot of perimeter defense. Last year, they had a three-headed defensive monster consisting of P.J. Tucker, Luc Mbah a Moute, and Trevor Ariza. The offense was obviously incredible, but this trio who could switch everything on defense and guard almost any position on the floor was a major piece to the team's success last year. During the offseason, both Mbah a Moute and Ariza found new homes. Chris Paul is still one of the smartest players in the game on both ends but is another year older, and while Clint Capela was one the biggest surprises of last season but, he'll need to step up and anchor the Rockets.
The Rockets were able to get rid of the albatross of a contract that Ryan Anderson possessed and switch him out for Marquese Chriss and Brandon Knight – two players who can provide replacement level and depth to a team that's lacking it. Eric Gordon is one of the most underrated offensive players but really delivered a d layer of athleticism last year to his game that we haven't seen since he was a Clipper back in the day.
The elephant in the room is obviously Carmelo Anthony. While he's still a skilled player, it'll be imperative for him to understand his role – Anthony no longer is a 30-point scorer and is playing with at least three players who deserve more shots than him, based on last season's respective performances. I can see why people talk themselves into believe that he can be a positive addition to this team, but let's be clear, the Rockets don't need Hoodie Melo taking 20-plus shots a game, they need an efficient version of Melo transitioning into the next era of his own game. If we see anything even reminiscent of that, get ready – these Rockets could be for real again.
In LIVE, you can make the decisions Mike D'Antoni is having to make by figuring out how to play Melo, how guys like Michael Carter-Williams and Gerald Green fit in – as well as whether you're going to run the ball through Chris Paul or James Harden. Personally, I'd let Harden bring the ball up and have CP3 work to get open and create from the perimeter. That worked for them well last year, and it worked even better for me in NBA LIVE 19!
Boston Celtics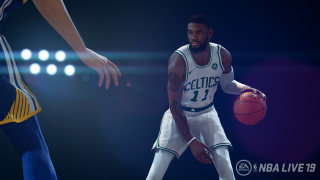 It's so difficult to try and determine what the minute-distribution in Boston is going to look like. A year ago, fans across the league were crushed to see Gordon Hayward go down just moments into the season opener. While it was incredibly unfortunate, injuries to Hayward and even Kyrie Irving allowed minutes to open up, which then allowed both Jayson Tatum and Terry Rozier to flourish. Both guys are starting-level players who weren't expecting to see starter minutes last year. Throwing together the gluttony of talent this team has might be a tough puzzle for coaching wiz Brad Stevens to figure out.
If it were up to me, I would look hard at putting out a fluid lineup like Irving, Jaylen Brown, Hayward, Tatum, and Al Horford. It could be argued that they'd be missing the toughness of Marcus Morris, who started much of the season at the four last season, but a second unit of Scary Terry, Marcus Smart, Semi Ojeleye, Morris, and Aaron Baynes is easily the best defensive bench unit in the league and full of guys who can slot in to play the matchups.
It's almost as if we're looking at a completely fresh team in Boston this year. That said, they're going to be very good – there's no ifs, ands, or buts about it. Health-permitting, if playing with the Celtics, who are arguably the deepest team in the league, will give you a little of everything. On the offensive end, you have five shooters in that starting lineup and you still have pretty solid size even if they're playing small. Sub in Smart to lock up less-physical point guards or Terry for his quick hands and athleticism when playing other top teams, because he seems to always deliver when called upon, but don't forget about Ojeyleye who's built like a body builder and projects as a plus-defender and rebounder this season. The Celtics are going to be a great team this year and I'm excited, even as a Lakers fan, to play a bit with the Celtics as the season goes on and work with the different lineups they can put out.
- Rahul Lal (Follow Rahul on Twitter @rlal95)

---
Stay in the conversation, like us on Facebook and Follow us on Twitter.
Are you ready to get out there and make your mark on the court? You can now pre-order NBA LIVE 19 here.
Sign up today to receive the latest NBA LIVE 19 news, updates, behind-the-scenes content, exclusive offers, and more (including other EA news, products, events, and promotions) by email.