Your team is down by one with three seconds left, and you've called for a timeout. The arena is rocking with the fans' deafening screams, cheers, and yells as you exit the huddle. Every great journey begins with a single step and, as you retake the court, your mindset is to come away with a W.  
It's time to prove that you have what it takes to be The One.  
The referee hands the ball to your teammate. Ready to inbound the ball near the half court line, he's looking for you to make your cut. You begin to create separation from your defender and your teammate throws the ball to you. You catch the ball. The clock starts ticking . . . three . . . two . . .
You pull up and release your shot. You've made this shot thousands of time in your driveway, in the streets, and overseas. The ball slices through the air silencing the home crowd – this is your moment.
Welcome to The League.
NBA Combine
Your journey in the league starts at the NBA Combine. Showcasing your talent against other potential draftees during the NBA Combine will help you stand out as a potential future star. The NBA LIVE 19 Combine teams consist of top rookies such as DeAndre Ayton, Jaren Jackson Jr, Kevin Knox, Troy Brown, Trae Young, Mohamed Bamba, Marvin Bagley III, Michael Porter Jr, Shai Gilgeous-Alexander, and Luka Doncic. Depending on the Position and Playstyle of your player, you will substitute in for either: Mohamed Bamba, Marvin Bagley III, Michael Porter Jr, Shai Gilgeous-Alexander, or Luka Doncic on the Combine Away Team.
The NBA Combine game is two halves of competitive and intense play – after all, everyone on this court is vying to be the number one draft pick. These two halves will allow you to become more familiar with your player on the court and answer questions about how they screen, box out, rebound, and how does your shot feel?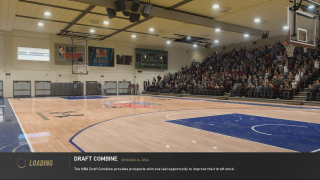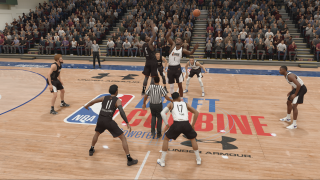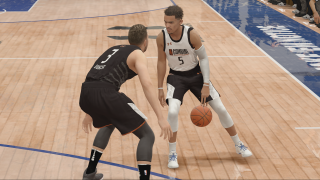 During the Combine game, you'll notice the ESPN Insider icon in the upper left of your screen. This is your Mock Draft pick during the NBA Draft. Through each possession, you can increase or decrease your performance grade and Insider draft position. Scoring, assists, rebounds, and steals will add to your performance grade, where bad spacing, turnovers, and missing contested shots will decrease it. Can you reach the top overall ESPN Insider Mock Draft position?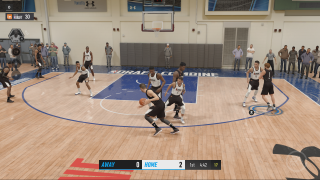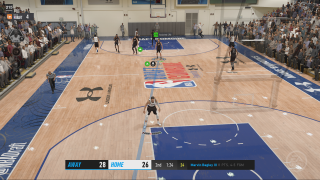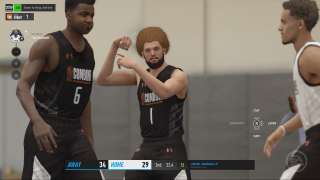 Based on your NBA Combine performance, this will also trigger a reaction from ESPN on your potential draft position.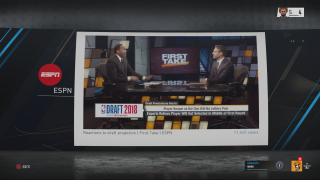 NBA Draft
In NBA LIVE 19, you help define the NBA Draft. If you are selected number one, that then slides the draftees to other teams. Meaning: DeAndre Ayton wouldn't be on the Phoenix Suns anymore, but he may go #2 to the Sacramento Kings.
The draft also replicates what happened during draft night in the actual NBA (for example: Atlanta trading the third pick to Dallas for the fifth pick; Phoenix trading #16 and a future first-round pick for Philadelphia's #10). If you are drafted as the fifth overall pick by Dallas, you will then be traded to Atlanta for their pick.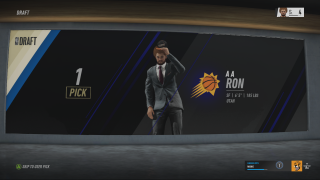 New League HUB
After the draft, you start your career in the NBA. You'll be able to access parts of the mode through our streamlines League Menu. There, you see always see your schedule for the upcoming week and jump right into the game. Checking your upcoming goals, your current player stats, team stats, or other options will be readily available by moving down from the main hub, which will transition you to the second screen.
These additional updates are right at your fingertips and will allow you to immediately see all the League information as well as adjust any settings to better fit your League experience. We have also created new user interactions with the News and Social Media Reactions, Player Goals, League Updates, and Editing the League functions.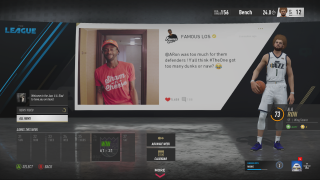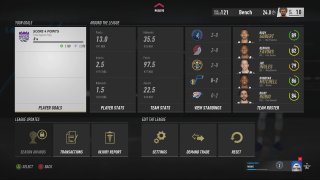 Social Media Reactions
This year, we are bringing more reactions to how you play the game with screen talent from Cassidy Hubbarth of ESPN to Famous Los. These social media reactions are tailored to your every game within The League and feature your posturizing dunks, heat-check threes, and vicious blocks.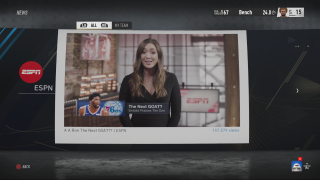 Player Goals
Player Goals are broken down by Game and Season within The League. Game and Season goals are specific to your playstyle based on the five skills listed in the Skill Upgrades screen. Achieving these goals will result in rewards such as additional Career Hype and RP (reputation)for the Live Store.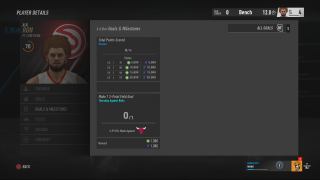 Through League conversations with Sydney Elliott, you will discover additional player goals based on conversation response selections. And depending on the choices you make in these conversations, you will be awarded additional Career Hype and RP just as long as you complete the goals during the upcoming game.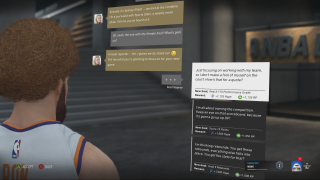 League Milestones are broken down into Game, Season, and Career. Game milestones are tailored to the upcoming team you are going to be playing against in the schedule. Season Milestones are a mix of NBA Award goals and stat goals. Stat Season Milestones are updated after every game, thus allowing you to know how close you are to completing them. Career Milestones are stats based on and built around your playstyle.
Game Milestones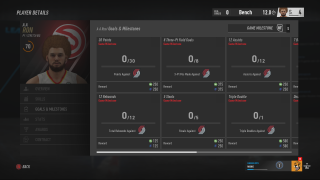 Season Milestones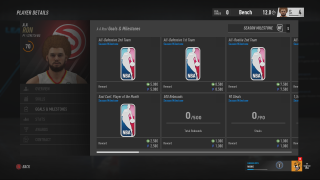 Season Milestones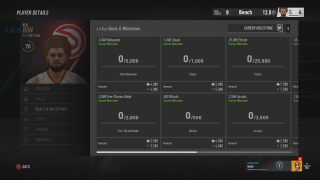 League Updates
Within The League Updates section, you are able to view any transaction that happens within the League including trades, signings, or players being released. You are also able to see the players that are injured and their expected timetables for returning to the hardwood.
Edit the League
One key feature within the Edit the League section, is the Demand Trade option. Here, you are able to initiate a trade to any team within The League before the trade deadline. Knowing that very few rookies, if any, are able to demand a trade, we wanted to give you the flexibility to go to your favorite team or to allow you to be on a team that best showcases your NBA LIVE talent.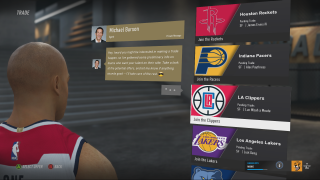 Jersey Select
To bring you closer to the actual NBA, we have added Jersey Select as a new feature this year. You are able to choose from Association, Icon, and Statement.
Bucks, Hawks, Heat, Hornets, Jazz, Lakers, Magic, Pacers, and Suns now have Classic jerseys as an additional option in jersey select. You have the ability to choose the jersey your team will wear and that your opponent will wear.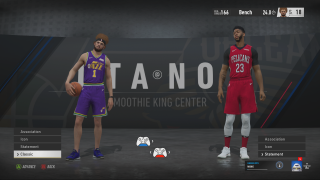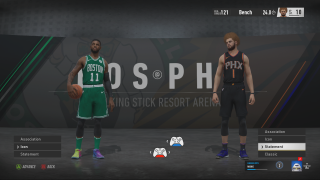 Career Hype – CAP Progression
Playing games in The League will reward you with Career Hype, XP (experience), and RP. Career Hype carries across all created players on your console and any item that you unlock with Career Hype is also available to all of your created players. Career Hype can also be obtained through playing World Tour and Live Events.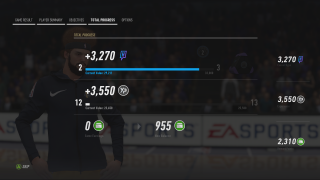 You are notified when you reach new Career Hype levels through dynamic messaging and have access to any new gear or collections available in the LIVE Store.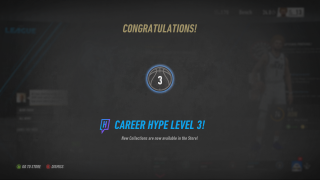 Loading screens also help you know you current Hype status as well as how much more Hype is needed to rank up from Rookie to Icon status.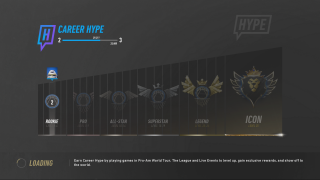 You can also press down on the Left Stick (L3 Button) in any menu to view the HoopsNet notifications. In HoopsNet, the top tab is for your Hype within Court Battles, Live Run, and Career. For each ranking –  Rookie, Pro, All-Star, Superstar, Legend, Icon –  you are rewarded with items or gear collections.
Do you have what it takes to be the next League Icon?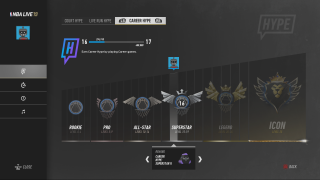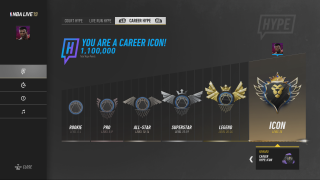 Performance Grade
We have also expanded the Performance Grade to allow you to showcase your LIVE talent and surpass the 100 mark. Getting a higher Performance Grade will also get you more Career Hype, which allows you to unlock new items in the store.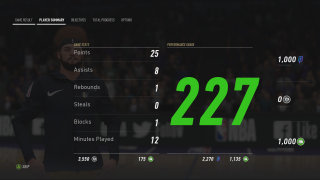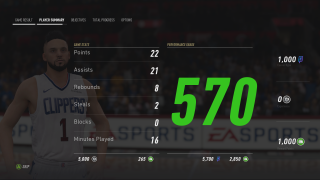 As always, we welcome your feedback and thoughts on NBA LIVE 19's League experience.
Thank you for being a part of the NBA Live community!
– NBA LIVE Team
---
Stay in the conversation, like us on Facebook and Follow us on Twitter.
Are you ready to get out there and make your mark on the court? You can now buy NBA LIVE 19 here.
Sign up today to receive the latest NBA LIVE 19 news, updates, behind-the-scenes content, exclusive offers, and more (including other EA news, products, events, and promotions) by email.