Update 1.7 will soon be available for download in the App Store and Google Play. This update introduces new, time-limited game modes, a seasonal login calendar and some quality of life improvements. Continue reading for full details on what to expect with Update 1.7 goes live.
Table of Contents:
FEATURES
We want these modes to offer a different experience compared to the standard ladder. These modes will be based off the classic gameplay rules that you're used to but with a twist. From how many missiles it takes to destroy a base to your starting Tiberium or even unit cooldown timers, we want these modes to feel unique and exciting.
Learn more about the new game modes here.
The seasonal login calendar will reward you for playing every day. The calendar resets for all players at the same time, at the beginning of the season. The more days you log in during the season, the more rewards you will earn. The login rewards may not run for the entire season, allowing you to miss a few days and still receive all the rewards.
Read full details here.
Quality of Life Improvements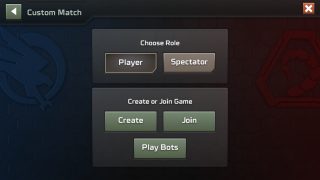 Whether testing out a new unit or experimenting with army configurations, there are times when you want to start quickly jump into a battle. Alliance battles and custom matches are great options, if another player is around. Now, you have the option to play against an A.I. opponents.
This option has been added to the Custom Match screen. On the main screen, you will now see the option to "Create," "Join," or "Play Bots." After tapping on "Play Bots" you will have the opportunity to select a map and change your army loadout. Tap "Create Match" to begin the battle.
Increased Army Slots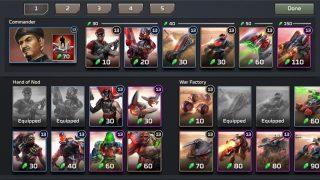 We've heard your feedback that being able to save only three armies per faction can still feel restrictive. With this update, we have increased the number of armies that can be saved, giving you more options before you start the battle.
Increased the number of saved army slots to 5 (was 3)
Unit and Commander Upgrade Notifications
The "Army' tab on the main landing page will no longer show the notification for how many units can be upgraded.
Opening crates, particularly when there are many crates to open, can take time. We have added a 'Skip' button, allowing you to skip the crate opening animation. After tapping that button, a summary of what you received will pop up. This gives you the flexibility to manually open crates or skip the crate animations, depending on your preferences.
Performance & Bug Fixes
Fixed various crash issues
Fixed an issue where some event reward vanity items had the description 'Purchase in Store'