Cosplay can be described as an outward expression of passion. A formidable force that unleashes creativity, inspiring players around the world to produce jaw-dropping renditions of their favorite video game characters.
Franchises like Mass Effect and Dragon Age have long historical connections to cosplay, and with international events like gamescom, it's not uncommon to see famous BioWare characters like FemShep make an appearance on show floor.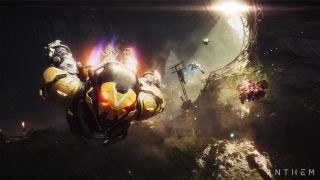 The Ranger: Inspiring a new wave of BioWare themed cosplay
It was during a similar expo, EA PLAY 2017, that Elliott and Carla Politte, the husband and wife duo behind Irradiant Cosplay, caught their first glimpse of Anthem.
"I remember seeing Anthem and being immediately drawn to its mysterious world, the idea of the game, and the design of those incredible javelin exosuits," said Elliott. As the Anthem Official Gameplay Reveal (2017), took them on a journey that teased a landscape of primeval beauty, the couple had an ambitious idea: To build the first ever, fully functional, cosplay of the Ranger to showcase at DragonCon 2018.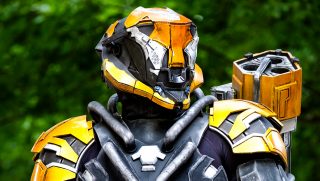 Irradiant Cosplay's amazing Project Anthem
Before work could begin on Project Anthem, one question needed addressing; how do you re-create a character from a game that doesn't release until February 2019? "By going through every sequence of the Reveal Trailer, frame-by-frame" Elliott explained.
Capturing the Ranger from every visible angle gave them enough reference material to begin replicating the exosuits cosmetic appearance and functionality, and to begin mapping it to Elliott's body shape and height.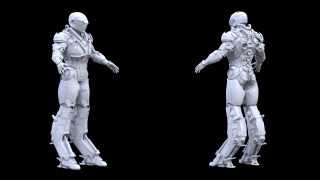 Rendering Process: 3D map of the Ranger used to fit Elliott's frame
"I'm a 6'3" athletic guy, and the armor shown in the trailer was on a more petite, but still athletic, female Freelancer who was quite a bit shorter than me. To work around this, we carried out a virtual scan of my body to make a 3D model, ensuring all of the suits portions were correct" divulged Elliott. "Portions are always the one thing that I'm always extremely focused on, as they can visually make or break a project aesthetically."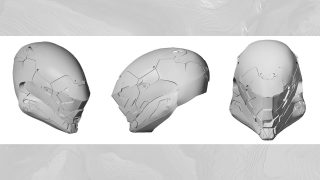 Close up progression render of the Rangers helmet design
All creative projects face unique challenges as Elliott explained, "Our first mistake was thinking we could just 3D print everything, like we've done for past projects. Portions of the armor were too rigid and we had to rethink our approach to building its digitigrade legs."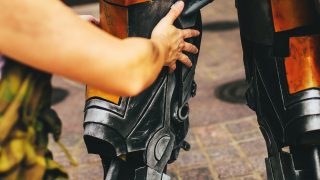 Carla adjusts the suits the digitigrade legs
They were eventually welded from steel and everything was hand-built around them using foam, ensuring all sizing and portions remained true to the suits blueprint.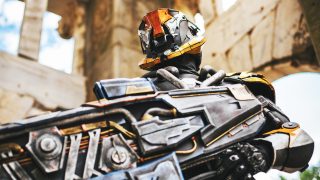 Accuracy of the armors portions was critical to the final design
Trial and error also allowed them to realise the magnitude of Project Anthem. "This was really big. So, we sought help from a few people to ensure the project was complete for Dragon Con 2018."