When the EA Firemonkeys team in Melbourne decided they wanted a fun way to continuously improve their skills, a drawing club was born.
In this casual meetup where the group would be assigned a random topic every week, the artists were encouraged to try different styles and materials to better their skills. Last week, the group decided to pay tribute to racing games.
Meet four artists behind the drawing club and learn what inspired their drawings.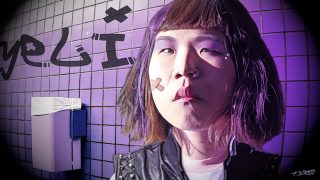 Drawn by: Tim Spicer, Creative Media Specialist
Inspired by:  Road Rash
This motorcycle racing game in which the players participate in illegal street racing and violent biker brawls was originally published in 1991.
Says Tim: "This piece was my rendition of the Road Rash: Jailbreak art style. My goal was to adopt the stylized characteristics and 90s grunge tone of their original artworks, and reproduce it in a slightly more contemporary form. The image was created through the use of photography which was then manipulated and digitally painted to produce the final image."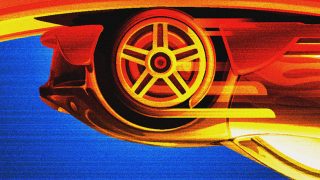 Drawn by: Sahan Gamage, Associate Creative Services Specialist
Inspired by:  Hot Wheels: Turbo Racing
Initially released in 1999 for Nintendo 64 and PlayStation, this game featured 40 cars modeled after their Hot Wheels toy equivalents. The tracks also gave off the look and feel of the plastic toy pieces.
Says Sahan: "Growing up I loved collecting Hot Wheels cars, and the loop tracks were always the most fun. My aim with this illustration was to capture that moment at the peak of the loop."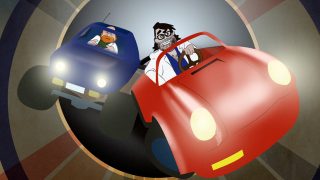 Drawn by: Belinda Cheng, Associate Creative Services Specialist
Inspired by:  Micro Machines
Codemasters' legendary game was developed in 1991 and was re-created for mobile by Chillingo this July. Micro Machines allows up to four players to play in miniaturized, combative racing fun across 10 tracks of tabletops, desks, pool tables and kitchen sinks. 
Says Belinda: "I chose to do Micro Machines because of the color palate and strong characters. It really inspired me to work with colors that pop and I got to enjoy drawing quirky characters. My illustration was based on the game cover, and slowly I added some personal touch. The outcome was definitely what I aimed for, the dated look and feel."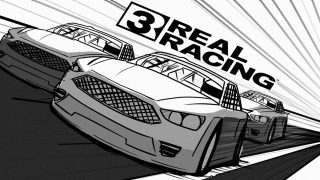 Drawn by: Johnathan Lay, Creative Specialist
Inspired by: Real Racing 3
First developed in 2013 by EA Firemonkeys, Real Racing 3 offers an authentic experience with real-word racetracks, and official cars from 29 manufacturers.
Says Jonathan: "I created an illustration based on one of my favorite updates from R3, which was the "NASCAR" update. It was an update very different from the rest, and introduced many new ways & techniques of driving. The style I went for was a comic style similar to that of Initial D, I love their use of line work to denote the sense of speed and action in each panel."
We'd love to see the art work of your favorite games that you have created. Show us your creative side and share your artwork with us on Twitter.
Want to work with some of the most creative and passionate people in gaming? Visit our careers page.
Stay in the conversation of all things EA: Visit our site, Read our blog, follow us on Twitter and Like us on Facebook.