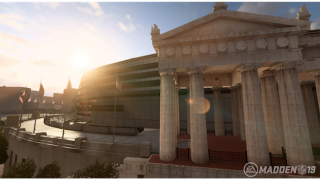 The 99 Club has a long history of including some of the best players ever in Madden. From dynamic scrambling QBs, unstoppable ball carriers, and shutdown DBs, any seasoned player can list some of their favorite top-rated players from Madden's past.
A 99 OVR is a thing of beauty. It signifies an elite status among all others in the league, as demonstrated by the 99 Club members in Madden NFL 19. It's a hard-earned ranking, and one to be considered as showing the pinnacle of NFL talent.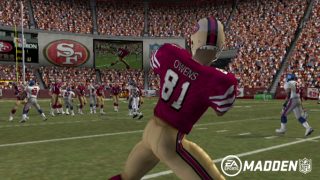 A 99 OVR is the highest rating possible in Madden. Ratings in Madden are updated based on the real-life performance and skill set, so attributes like Speed, Catch, and Tackle are all accounted for. In this modern era of Madden, these ratings get updated weekly. If somebody has a monster week, you'll see their ratings jump up. For example, Atlanta Falcons' wide receiver Julio Jones was standing at a 98 OVR last season. Then, on Week 12, he torched the Tampa Bay Buccaneers with 12 catches, 253 yards, and two touchdowns. As a result of that game, his Madden ratings was bumped up to a 99 OVR.
This coveted status mirrors greatness in the NFL, both past and present. Hall of Fame Edition cover athlete Terrell Owens is one of the best the game has ever seen. In Madden 04, Owens was an absolute force. The combination of his size, 99 OVR, 97 Speed, and 98 Acceleration could win you games single-handedly. A quick slant route was outright lethal, regardless of defensive play call.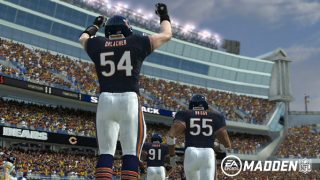 Another Hall of Famer blessed with 99 Club membership is Chicago Bears' great Brian Urlacher. The leader of a stout defensive front, Urlacher was the foundation behind the Bears' success throughout his career. Urlacher possessed a dangerous combination of size, speed, and strength. He had enough power to flatten blockers for a sack and was exceptional to control from the user perspective, allowing players to use his skill set while dropped back into coverage. Urlacher could easily chase down running backs that broke beyond the line of scrimmage. He was a one-man wrecking crew on the field and in Madden.
There's a drastic difference in how you play Madden with 99 OVR player, and one in the low 90s and below. Plentey of quality players appear in the game, as the upcoming ratings reveal for Madden 19 will show. But 99 Club 99 members are simply a level above.
-Daniel Williams (Follow Dan on Twitter @thatDanW)
---
Madden NFL 19 launches August 10. Pre-order the Hall of Fame Edition for three-day Early Access and loads of MUT content. Stay in the conversation by following us on Facebook, Twitter, Instagram, YouTube, and EA Forums. Sign up for the Newsletter today to receive updates on Madden, and other EA news, products, and events all season long.