At the Madden NFL booth at EA Play in June, Shay "Young Kiv" Kivlen jumped on the sticks to check out some Madden NFL 19 work in progress gameplay. He schmoozed with some of EA's game developers and posed for photos with Pittsburgh Steelers wide receiver, Juju Smith-Schuster. Just another day in the life of the reigning Madden NFL 18 champion. We caught up with Young Kiv to see what he's been up to since his big victory back in April.
Champion's Gait
It was a hot Saturday afternoon in Hollywood, CA. Young Kiv's fashion sense was on point as always, albeit far from practical. Sheathed in a yellow, plaid flannel over a black hoodie, the 20-year-old Madden NFL 18 champion strutted around the EA Play campus with a newfound sense of confidence. You probably would too if you were hauling around a five-foot long trophy travel case that safeguarded a bling-encrusted Madden Championship Series belt.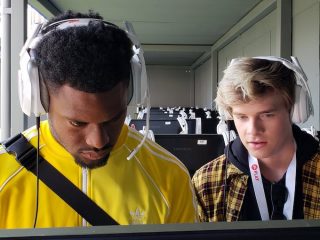 The last time we saw Young Kiv, he had just hoisted the Madden Ultimate League championship belt after being crowned the undisputed Madden NFL 18 champion. The curtain closed on the MCS season in an unforgettable way as Drini "Drini" Gjoka fell to Young Kiv in what may go down as the most riveting final two minutes of competitive Madden in history.
The Big Stage
As the reigning Madden NFL 18 champ, EA SPORTS granted Young Kiv the honor of introducing the worldwide Madden NFL 19 reveal trailer alongside Smith-Schuster at the EA Play press conference.
Amidst the chaos that his newfangled fame presented, Young Kiv managed to pencil me in so I could pick his brain about what he's been up to since the big win and what he's most looking forward to in Madden NFL 19, which drops in August.
Talking Shop
"I've been just chillin', relaxing. I haven't really been playing Madden, just taking a break," he told me.
Folks don't realize how much of a full-time job it is to be a professional Madden competitor, or an esports athlete in general. So, it makes sense that Young Kiv focused on taking some time for himself after his emotional and hard-earned victory back.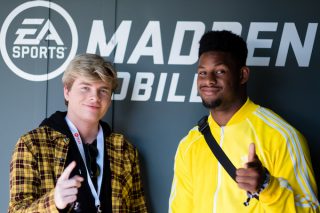 "Once Madden NFL 19 comes out, I'll get back into tournament mode, back into grind season," the reigning champ explained.
What does he mean by "grind season?" The competitors can't wait to get their hands on the next edition of the game. It's all about getting up to speed with whatever the latest features, gameplay mechanics, and potential playbook tweaks are.
"As soon as it drops, I'll be grinding, like, 10 hours a day. Trying to find what my new scheme on offense and defense might be. Trying to figure out the game, the ins and outs," said Young Kiv.
As evidenced by his championship belt, Young Kiv already knows the ins and outs of Madden NFL 18. But, "Even though it's still football, it's like a new game. It really is different each year," he said.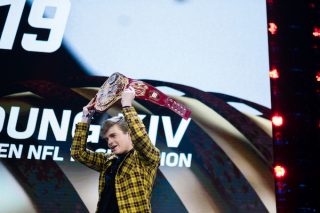 In terms of what updates he's most excited about in Madden NFL 19? Young Kiv was all about the gameplay advances. "Seeing how the gameplay changes from 18 to 19, and more consistent animations, I would say. Just gameplay in general." Here's a deep dive from Clint Oldenburg, Madden NFL Lead Gameplay Design, that truly hones in on the gameplay upgrades in Madden NFL 19.
Of course, I couldn't exit the conversation without asking Young Kiv about his notorious fashion sense, so I asked if he'd updated his wardrobe at all since the last time we spoke. "A little bit . . . a little bit," he said. "I've tried not to spend too much, trying to save a bit."
---
–Matt Franciscovich (Follow Matt on Twitter @MattFranchise)
Madden NFL 19 launches August 10. Pre-order the Hall of Fame Edition for three-day Early Access and loads of MUT content. Stay in the conversation by following us on Facebook, Twitter, Instagram, YouTube, and EA Forums. Sign up for the Newsletter today to receive updates on Madden, and other EA news, products, and events all season long.