Matt Franciscovich (@MattFranchise on Twitter) interviewed DeAndre Hopkins for EA SPORTS.
Did you catch it? In the Madden NFL 19 "Greatest Play Call Ever" commercial, NFL superstar receiver for the Houston Texans DeAndre Hopkins (a.k.a. D-Hop, a.k.a. Nuk) made a hilarious but brief cameo, as he delivered a dad-joke one-liner while rocking a custom diamond-encrusted chain.
The 2017 All-Pro wideout for the Houston Texans is regarded as one of the elite receivers in the league, and for good reason. Hopkins signed a new contract with Houston last fall and proceeded to dominate the league with a 96/1,378/13 line; he even finished the year as the No. 1 wide receiver in fantasy football. Perhaps more importantly, D-Hop is a huge Madden fan.

Given his statistical success during his five seasons in the NFL, the 26-year-old receiver feels that he's underrated, especially when upper-echelon pass-catchers like Antonio Brown, Julio Jones, and Odell Beckham Jr. enter the discussion; all of whom have higher OVR Madden 19 ratings than Hopkins at launch.

With that chip on his shoulder, Hopkins was excited to chat about his Madden ratings, how he plays Madden, and he even served up a next-level roasting when Julio Jones came up in conversation.
We started by talking about the Madden 19 "99 Club", an exclusive group of NFL players who start the year with 99 OVR ratings in Madden. Hopkins is not one of those players, yet.
DeAndre Hopkins: I've been a 93 OVR since I've been in the NFL. That's crazy isn't it? I mean, I finally made All-Pro.
@MattFranchise: Well you're a 94 OVR to start this year, and the only wide receivers above you are Antonio Brown (99 OVR), Julio Jones (98 OVR), and Odell Beckham Jr. (95 OVR). So, depending on how you play, you can bump that rating up.
Hopkins: Man, I might not play Madden this year. That's disrespect, man (laughs)!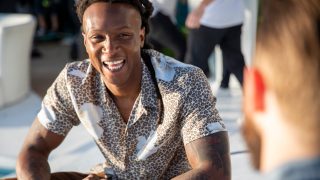 Franchise: When you do play Madden, what's your favorite mode?
Hopkins: All-Madden. I know about MUT too, but I just play online head-to-head.
Franchise: I saw that you tweeted out your gamertag a few weeks ago and asked who wanted to play you in Madden.
Hopkins: Yeah, yeah!
Franchise: How often do you jump online and play random folks?
Hopkins: Man, that's the best way to do it. That's how I feel, just interacting with my fans.
Franchise: Do you tell them it's you?
Hopkins: Yeah, I tell 'em it's me, I don't want them to think they're playing an imposter. I always tell them it's me though.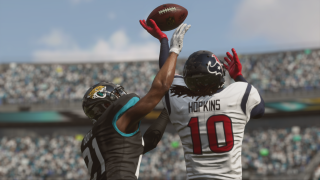 Franchise: You obviously play Madden as yourself using the Houston Texans all the time. Do you ever play with another team in the game?
Hopkins: If I play with another team, I'm gonna play with the Atlanta Falcons, because Julio Jones is unstoppable in the game.
Franchise: Yeah, he's definitely a beast, with that 98 OVR.
Hopkins: Yeah, even though he only had like, three touchdowns last year. And I had 13.
Franchise: You did have 13.
Hopkins: Yeah, with five different quarterbacks.
Franchise: You were the No. 1 fantasy WR last year.
Hopkins: Yeah and I'm only a 94 OVR rating.
Franchise: You think that needs to go up, huh?
Hopkins: I dunno man, the AP [Associated Press] people, they the most prestigious people in the voting. Only 11 players make All-Pro First Team. Only two receivers. DeAndre and Antonio [Brown].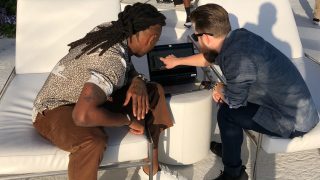 Franchise: Do you want to break down your more specific ratings?
Hopkins: Yeah man. My Run Block [notes that it's 59].
Franchise: You think that should be higher?
Hopkins: Yeah man. I don't know if you've seen the stat but I actually was one of the highest-rated run blockers. It was me, Larry Fitzgerald, and Jarvis Landry. This is from the people who actually do the statistic, downfield blocks. I was top five though. I mean if 60 or 63 is the highest Run Block rating, I'd be happy with 59, you know what I'm saying?
Franchise: Let's see. You're 59 Run Block, so you're about top 12 among wide receivers. 65 is the highest.
Hopkins: Yeah, I guess I'll take it man, I'll take it. What about my red zone? Toughness rating, that should be way up.
Franchise: Toughness is 90, Stiff Arm 92, I think maybe we dogged you there.
Hopkins: That's all good man, ya'll always dog me man, I'm the red-headed step child in this if ya'll ain't seen that by now (laughs).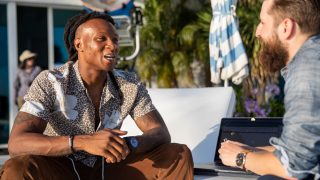 Franchise: What's the first version of Madden that you remember playing?
Hopkins: Oh man my first version of Madden? Michael Vick, yeah 2004, and all I did was just run around with Vick every play. Yeah, he was running back, quarterback, everything.
Franchise: And I know your quarterback Deshaun Watson has some legs, right?
Hopkins: Oh yeah, he's Vick junior, man. I mean I'm not gonna say he's Vick junior you know, he's his own man, he's a special person.
Franchise: You know Lamar Jackson, rookie quarterback from the Ravens, what are your expectations for him as far as a Madden goes?
Hopkins: Yeah, he can move. His speed should definitely be up there with the elite of the elite, you know up there with running backs and wide receivers if not faster. I think his Madden rating should be pretty high coming into it, man.
Franchise: You're spot on, he's got 91 Speed, fastest quarterback in Madden 19 at launch.
Hopkins: And I think it should even be higher honestly.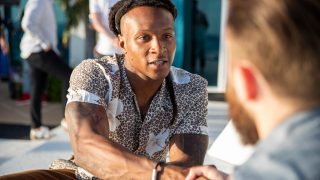 Franchise: So, before I go, I got one more question for you. Our professional Madden competitors have what they call their "money plays" like their go-to plays when they need a third-and long conversion. What's your go-to, clutch, money play?
Hopkins: My money play? I'm lined up on the left by myself, it's shotgun, three receivers on the right, and I'm by myself, it's like this, we call it a bang, like a corner route, like a bang-eight. Or like, kind of like a one-on-one route to the outside, like a 15-yard route man, it's pretty money. My other one is a double-move to myself when I'm one-on-one, it's like a stop-and-go 10 yards, fake the hitch and go. Works every time one-on-one in Madden.
–Matt Franciscovich (Follow Matt on Twitter @MattFranchise)
---
Madden NFL 19 is now available on Xbox One, PlayStation and PC. Want to register for competitive Madden but not sure how? Here's some important info to get you started. Stay in the conversation by following us on Facebook, Twitter, Instagram, YouTube, and EA Forums. Sign up for the Newsletter today to receive updates on Madden, and other EA news, products, and events, all season long.