Primetime Performers has been dropping each week this season, but now it's time to bring in some extra clutch talent to Madden Ultimate Team. Playoff Performers are here! This round of MUT drops honors performances from past Wild Card rounds.
Each week during the NFL playoffs, for a limited time, new game-changing players are available through Packs. So, you might pull one of these superstars on Thursdays or Fridays.
If you have the depth, and don't need a Playoff Performers' skillset on your squad, then each will earn you 500,000 Coins through quicksell.
Below is an early look at one of the Playoff Performers for this week.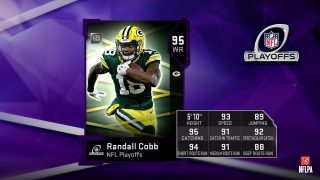 Randall Cobb, WR, Green Bay Packers
The thing to watch here with Cobb is his Speed and Catching. Cobb makes a great addition in general to your MUT roster, but is stellar in slot assignments. There, Cobb's 93 Speed is going to embarrass mismatch coverage while your primary WRs are pulling better coverage to the outside. Especially on slant routes as he's simply too fast for most linebackers in zone coverage. Adding Cobb to your lineup not only provides a wonderful slot receiver, but his 94 Short Route Running makes him nearly unbeatable in the short game, forcing even better players to shift their coverage to accommodate. Cobb can open up so much on the field; he's an essential add.
That's not all that's dropping for Playoff Performers. Make sure to follow @EASPORTS_MUT to see when we go live with the #MaddenDailyDrops Twitch stream. There we'll announce the other player dropping this week. You won't want to miss it, especially if you need some help in pass coverage.
---
Madden NFL 19 is available now. Stay in the conversation by following us on Facebook, Twitter, Instagram, YouTube, and EA Forums. Sign up for the Newsletter today to receive updates on Madden, and other EA news, products, and events, all season long.