We're coming down to the last few player ratings updates of the season. This one is the result of an insane weekend of football.
Both the NFC and AFC Championship games went into overtime. If your team was already out of it, you got to sit back and enjoy an epic pair of football games. If your team was one of the four, well then it depends on which end you were on.
One thing is for sure, one story line you won't see at all is the age difference between the Super Bowl starting QBs. Once the media coverage really kicks into gear, you won't see any content pointing out "Tom Brady old, Jared Goff young" anywhere. That I can promise and … [frantically searches Internet], well never mind. I was wrong.
Look, let's not spend too much time on who was right and who was wrong. Let's focus on the player ratings.
Moving On Up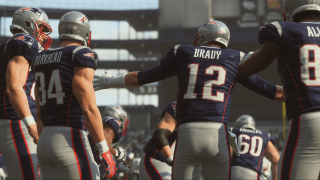 Admittedly, this was not Brady's best game. But when it came down to it, he was there to make plays in the final minutes. Regardless of the outcome of Super Bowl LIII, Brady's legacy is only further cemented as the G.O.A.T.
Brandin Cooks caught all seven of his targets. That is the ultimate example of a clutch performer. He may not have scored, but basically every one of his catches were crucial plays that kept the chains moving for what would become scoring drives. Cooks deserves way more credit than he's getting for this win.
Moving On Down
The Rams' dynamic rusher just wasn't on his game against the Saints. His health was put into question, but he said "I was sorry as hell today." Whatever the reason, Gurley's performance lacked production and included some dropped passes, so his ratings numbers dropped a bit.
Berry is one of the best stories and players in the NFL. Unfortunately, a nagging heel issue kept him on the sideline for most of the year and prevented us from seeing another epic matchup between him and Gronk. One of a handful of safeties capable of doing it all, Berry managed six tackles despite being less than 100 percent. He'll be back among the league elite again next season.
-Daniel Williams (Follow Dan on Twitter @thatDanW)
---
Madden NFL 19 is available now. Stay in the conversation by following us on Facebook, Twitter, Instagram, YouTube, and EA Forums. Sign up for the Newsletter today to receive updates on Madden, and other EA news, products, and events, all season long.