At this point, "Congrats to the New England Patriots" is a phrase that habitually populates in everyone's smartphone autocorrect.
In a complete curveball from the rest of the season, Super Bowl LIII ended up being a contested defensive battle. But with the Pats' win and the end of the NFL season, it's time for the final player ratings update for Madden NFL 19.
In Madden 18, the star of the year was Alvin Kamara, who skyrocketed up the ratings ladder despite being buried in the depth chart. On the opposite end of the spectrum, DeMarco Murray started the year as a top 5 HB, and fell all the way down to the low 80s in OVR.
While this season doesn't feature quite the same drop-off as Murray had, the offensive explosion in the NFL sent many players' OVRs on the rise. So, without further delay, let's dive in to the ratings journey of Madden 19.
Club 99 Update
The season started off with a plethora of elites in the Madden Club 99. While none of them fell too far, only two players were able to maintain their 99 OVR status throughout the season. Aaron Donald further asserted himself as the defensive superstar of the NFL. And cover athlete Antonio Brown turn in another great year and remained an elite offensive asset in game.
But the big story of Club 99 this season wasn't really who fell, but who entered. Two defensive studs fought their way into elite status this year.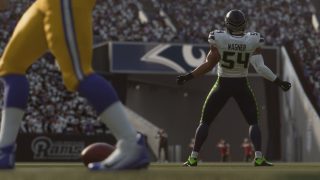 The best middle linebacker in the game, Bobby Wagner was a monster this year, finishing the season with 138 tackles. He's the ultimate run stopper in Madden, with a 99 Tackle, 98 Hit Power, and 90 in Block Shedding. Wagner is built to attack the run and easily plow through lead blocking assignments with ease.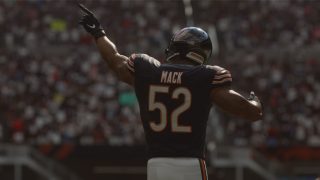 Outside of Chicago Bears fans, few gave the team much credit on the defensive side. The team was full of hitters but was lacking that umph that could throw the defense into overdrive. With Mack leading the charge, the Bears were ranked third overall in the NFL, and ranked as the top rushing defense in the league. As the team continues to build around him, don't be surprised to see Mack as a frequent member of Club 99.
Most Improved Player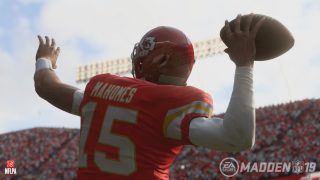 This shouldn't be a surprise to anyone. Mahomes was on fire all season, throwing over 5,000 yards, 53 TDs, and just 12 INTs, including the playoffs. In his first year as a starter, Mahomes displayed unique talent and made throws that only he is capable of making.
Gameplay wise, Mahomes changed dramatically as he continued to climb through the ratings, going from a 79 OVR at launch all the way to finishing the year at 94 OVR, which makes him the second-highest-rated QB behind only Tom Brady.
Mahomes took giant leaps, weeks at a time with his ratings in Awareness, all accuracy categories, and Throw on the Run. He went from being a unique strong-arm QB to one of the most versatile options in the position.
Offensive Rookie of the Year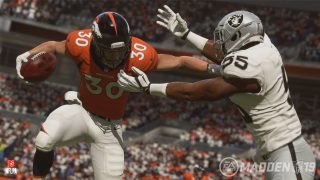 Phillip Lindsay was an effective player all season. As an undrafted rookie free agent, Lindsay wasn't necessarily the hope of Denver's offense. But not only did he notch more than 1,000 yards, he averaged more yards per carry than any top 20 HB in the NFL. This is all after not getting a start till Week 8 and recording 20 or more touches only twice, absurd efficiency from a source almost nobody saw coming. In terms of OVR boost this season, he's the only person to match Mahomes point for point. Can't wait to see what Lindsay can do with a more established role
Defensive Rookie of the Year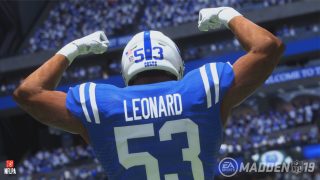 Arguably turning in the most effective rookie performance of the season, Darius Leonard helped revitalize the Indianapolis Colts just as much as Andrew Luck's return. Leonard led the NFL in tackles with 163, recorded seven sacks, caught two interceptions, and forced four fumbles. His playoff performance was also stellar, racking up 27 tackles in just two games. The man is just a tackle machine. Leonard quickly climbed the ratings column, and Indy now has a talented defense which should make even more strides next season.
The Good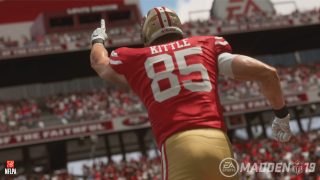 San Francisco TE George Kittle stepped up in a gigantic way this year. No tight end caught more yards than Kittle, who provided the Niners a sense of explosiveness. He embarrassed the Broncos' defense with a 210-yard game. He also had two TD catches go for 80-plus yards. His OVR got a significant 14-point boost, which was only beat out by Mahomes and Lindsay.
Nick Chubb was difficult to stop once the Cleveland Browns started feeding him the ball. Not only did he climb from a 76 to an 84 OVR, but Chubb managed to display his talent enough to add two points to Speed, which aren't easy to come by.
A quality secondary can always take advantage when tremendous pressure is delivered up front. Kyle Fuller notched seven interceptions himself, but second-year FS Eddie Jackson showed the biggest improvement. Jackson snagged six INTs, two for touchdowns that were the difference in close games against division rivals. Ratings wise, the only FS better than Jackson right now remains the always-great Earl Thomas.
Contract years are ideal times to put your best out there, and that's exactly what Dee Ford did. Ford began climbing the ratings almost immediately this season, going from a 74 to an 87 OVR. He totaled 13 sacks down the stretch and even made it to the Pro Bowl for the first time in his young career.
Seems odd to list so many HBs as breakout stars in the current stat of the NFL as a passing league, but you can't argue with results. That's what Chris Carson delivered all season after fighting for his spot in an overloaded backfield. Eventually, Carson outran the competition and solidified his spot on top of the Seattle HB depth chart. He earned his first 1,000-yard season and an 11-point boost to his OVR through the season.
The Bad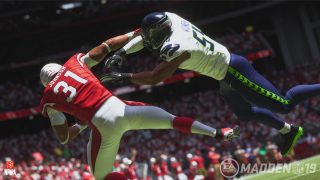 A six-point drop in OVR for an elite player like David Johnson is massive. However, if you look back at the Arizona Cardinals' play calling this season, Johnson can hardly be blamed. Despite the wide range of skills Johnson carries, play after play, the Cardinals decided to run him into walls of defenders. Their O-line barely created any daylight for Johnson to expose and their passing game demanded little respect outside of Larry Fitzgerald being on the field. With a complete revamp in coaching staff, it'll be exciting to see if Johnson rises back to his once-elite Madden status.
Reed has consistently been among the top tier of TEs; the only negative factor has been whether or not he's on a field. This year, he played more games than any single season since 2015. That normally spells great success for a TE with Reed's talent, but Washington went through a bit of an identity shift on the offensive side of the ball. The happy pairing of QB Alex Smith and Reed didn't mesh as well as fans hoped and was unfortunately short-lived due to Smith's injury. We'll see what happens with Reed next season. He has the talent, but it's difficult to predict Washington's future.
It was a rough year for the Minnesota Vikings. Kirk Cousins was hot-and-cold. Dalvin Cook was again hampered by injury. But perhaps most importantly, the Vikings defense took a major step back. Most notably was Rhodes, once praised as an exceptionally skilled cover artist. He fell out of the 90 OVR status early on this season. Hopefully the Vikings right their ship and we start seeing some epic defensive matchups in the NFC North.
This is more to note a four-point drop in OVR than anything else, but it honestly wasn't a bad year for Peters. There was a solid group of weeks where Peters just didn't look totally in it, but he ended the year pretty strong. With that said, the Los Angeles Rams are loaded with talent and have a great coach. This all points to a bounce back year for Peters next season.
Four games. Bortles managed more touchdowns than turnovers in just four games this season. The only reason it's not down to three is because a fumble wasn't lost. In his final two games as a starter, his QB rating didn't make it beyond 50 (Note: a perfect QB rating in NFL stats is 158.3). Beyond a quality showing against the New England Patriots, Bortles' rating began to fall.
The Ugly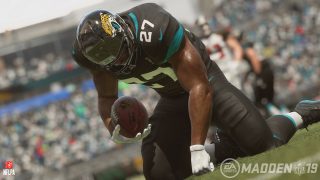 Fournette is known more for his punishing run style than efficiency. That said, it's not a good thing when an HB's yards-per-carry average dips even further.
This was about as down a year as you can get as a WR in the NFL, especially for someone that was once considered one of the NFL's top young talents. Benjamin managed a paltry 25 receptions for 380 yards and a single TD. That's it. A mere 25 catches. He took one of the larger ratings drops.
Penn has been in the league for quite a while. Though he unfortunately missed most of the season, he's been showing a steady decline. The Raiders will need him back to form if they hope to build on the small successes they had towards the end of the year.
A lot of Green Bay Packers took a dive in the ratings. Even Aaron Rodgers fell out of Club 99. But Matthews used to be one of the league's high-impact wrecking machines and is one of the Packers' crucial cogs on defense. With a new coaching staff in place, maybe we'll see a revitalized Matthews next season.
Bouye was one of the NFL's best DBs last season and was even a favorite in the Madden competitive circuit. But like many others in Jacksonville, Bouye took a dive in the ratings for Madden 19. His base ratings remain solid, but when a formerly-elite corner has their Man and Zone Coverage ratings dive below 90, you know something isn't just up to par.
–Daniel Williams (Follow Dan on Twitter @thatDanW)
Madden NFL 19 is available now. Stay in the conversation by following us on Facebook, Twitter, Instagram, YouTube, and EA Forums. Sign up for the Newsletter today to receive updates on Madden, and other EA news, products, and events, all season long.