Player ratings are constantly in flux. Immediately following the midseason ratings update, there's a big move among the Madden elite. Seattle Seahawks linebacker Bobby Wagner has hit the peak of gaming, a 99 OVR.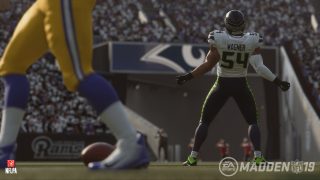 Wagner has been performing remarkably well in Seattle, despite being the last man standing from the former Legion of Boom. Congrats, Mr. Wagner. This is well deserved.
Enough celebrating a new 99 OVR, let's get into the ratings.
Moving on Up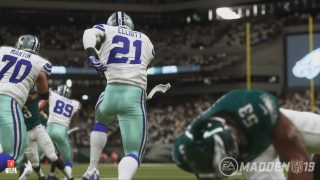 Zeke produced big yards almost every time he touched the rock against the Eagles, including an impressive (if not a little dangerous) hurdle for a big run. With the Cowboys' O-line providing better protection, the Dallas offense is going to continue to play bigger games, and Zeke will likely be the biggest benefactor.
The Browns have cleaned house with their coaching staff. Come Sunday, the decision was to feed Nick Chubb often. He delivered in a huge way, totaling over 200 yards with two touchdowns – one of which was a monster 92-yard run. It was an impressive outing for the rookie, who has all the makings of a workhorse back for Cleveland.
Many in the football world were undecided when it came to Trubisky as a franchise QB. He made a case for himself against Detroit, lighting up the Lions all day long. He was nearly perfect through the air with three touchdowns and even ran one in for good measure. With Allen Robinson back in action, this high level of play could continue for the Bears' offense.
Moving on Down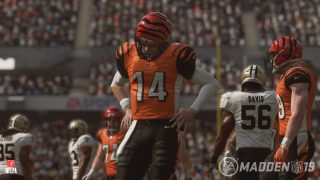 To put it lightly, Dalton missed having A.J. Green on the field. A game against the New Orleans Saints always has the potential for a shootout. Unfortunately for the Bengals, all that scoring was on the Saints' side of the ball.
With Wagner moving into the 99s, another linebacker falls. Kuechly and the Carolina Panthers' defense got roasted by the Pittsburgh Steelers. Ben Roethlisberger was giving out TDs like candy. Kuechly isn't solely to blame for letting the game get out of hand, but it's hard to justify a 99 OVR after getting 52 points dropped.
A game where Tom Brady doesn't throw a touchdown is a bit like a unicorn. They're super rare. That's happened twice this season, oddly enough. Brady is still the greatest of all-time, but ratings will always fall after a 24-point loss.
–Daniel Williams (Follow Dan on Twitter @thatDanW)
---
Madden NFL 19 is available now. Stay in the conversation by following us on Facebook, Twitter, Instagram, YouTube, and EA Forums. Sign up for the Newsletter today to receive updates on Madden, and other EA news, products, and events, all season long.