That trash not only just beat them, but the Jags essentially collapsed with frustration. It's a terrible look for a team once thought the NFL's newest defensive force. Instead, the Chicago Bears have taken over that playground.

Before moving on, we can't get through this article without mentioning Chris Carson. He's been running hard for the surging Seattle Seahawks. Case in point: you can't seem to stop him even if you take him off the ground.
The drama is only going to heat up as the playoff picture clears. Let's check out the ratings movers from Week 12.
Moving on Up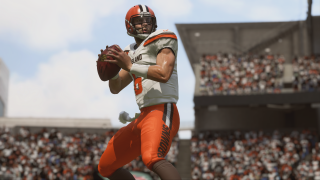 Mayfield has looked great recently. Over his last five games, Mayfield has thrown 13 touchdowns and just two interceptions. He has all the looks of a franchise QB. If the Browns can get their front office in order, then the long-suffering team could have the foundation for future success.
This update reflects his Thanksgiving performance, not last night's TNF game. Cooper's arrival into Dallas has provided something the Cowboys didn't have before: a complete offense. Overall, the Cowboys look like a more confident team and the field has been spread a bit more, allowing for Zeke to eat up more yards.
Two weeks in a row now, Eddie Jackson has recorded a pick six against quality QBs in Kirk Cousins and Matthew Stafford. Much like the Cowboys with Cooper, the Bears defense benefitted in a similar fashion when acquiring Khalil Mack. The pressure up front is forcing some ill-advised throws, and Jackson's coverage has been stellar lately.
Come to think of it, imagine if the Oakland Raiders did something crazy like actually keeping their first-round draft picks.
Moving on Down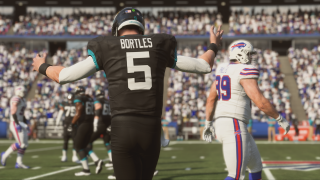 We already mentioned the Jags collapse against the Bills above. Bortles' flood of mistakes had to have a breaking point somewhere. At least for right now, it looks like the Jaguars will be looking for a new signal-caller this coming offseason.
It can take time to get used to a new defensive system midseason. Against Houston, Clinton-Dix looked like he found his footing with 13 total tackles and a forced fumble. Against the Cowboys, however, he simply wasn't attacking the ball well and was part of the reason the Washington defense was leaking big plays.
Olsen just isn't the same TE anymore. He battled some injury issues early, so he is likely not 100%. But over the last two games, Olsen has managed just 20 yards off four receptions. Sure, one was a touchdown, but this guy was formally the best passing option in Cam Newton's arsenal. Some of it is likely Christian McCaffrey taking up so much attention. We'll see if his numbers go up as the Panthers fight for a playoff seat.
–Daniel Williams (Follow Dan on Twitter @thatDanW)
---
Madden NFL 19 is available now. Stay in the conversation by following us on Facebook, Twitter, Instagram, YouTube, and EA Forums. Sign up for the Newsletter today to receive updates on Madden, and other EA news, products, and events, all season long.