This shouldn't really be news. Not that Adams isn't great, he is. And maybe he does make a valid point that his name should be thrown in with the WR elite more often. But this shouldn't be a surprise that an NFL athlete thinks he's the best at the position. That's not to say that WRs carry drama. I'm just saying that to get to that level of sport, an athlete must believe they're the best. There's no room for doubt, only execution.
Who knows? Maybe we'll see Adams back in the elite category once he and Aaron Rodgers find themselves a new coach. You sit back down Josh McDaniels, it's not time for your shenanigans just yet.
Anyway, before another coach gets fired or Mark Sanchez looks worse, let's check out some players moving about in this week's player ratings update.
Moving on Up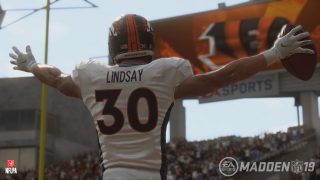 It's no secret that Lindsay is having a quality year, but it shouldn't be understated just how good he's been playing. Lindsay is maintaining an absurd 6.1 yards-per-carry average on the year, has 8 TDs, and nearly 1,000 rushing yards. Not bad for someone that's 5'8", went undrafted, and has yet to hit 20 carries in a single game. If the Broncos sneak their way into the playoffs, it's on Lindsay's back.
Look, Raiders Fans have been in a lot of pain this year. The team's struggles have been well documented, so it only makes sense to recognize the significance of great play when they deliver. Carr looked like his former "franchise QB" self. It was a losing effort, but they nearly upset the Chiefs. If they can close out the season strong, Oakland might get a quality sendoff after all.
Can't argue against numbers. On just 14 receptions, Thomas has four TDs. That's hitting pay dirt every 3.5 catches. To put that pace in perspective, the current NFL leader in receptions is Adam Thielen. If he had Thomas' TD frequency, he'd have 28 TDs this season. I know, this is an absurd exaggeration. The fact remains that Thomas is a quality red zone option for the Houston Texans, a team steadily on the rise.
Moving on Down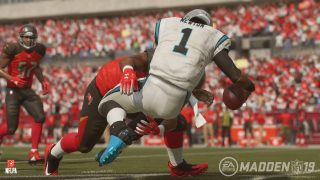 Losing tough division games is no way to earn a playoff spot. Despite the surging Christian McCaffrey, Newton struggled against the Bucs defense. Cam tossed four INTs and the Panthers have now lost four consecutive games.
The Dallas Cowboys defense deserves all the credit in the world right now because I don't think anyone picked them to shut down the Saints the way they did. This was a historically bad game for Brees, who just didn't look confident out there and flat-out missed targets. This was likely just a hiccup; however, for the insanely talented QB.
The Bears were able to force overtime, but Gabriel's fumble late in the game was costly. Gabriel snagged three of his seven targets and managed just 17 yards. He'll look to shake off the tough loss this weekend when the Bears host the Los Angeles Rams in what could be a playoff preview.
–Daniel Williams (Follow Dan on Twitter @thatDanW)
---
Madden NFL 19 is available now. Stay in the conversation by following us on Facebook, Twitter, Instagram, YouTube, and EA Forums. Sign up for the Newsletter today to receive updates on Madden, and other EA news, products, and events, all season long.