The NFL rookie class has been surging forward lately.
Sam Darnold has shown flashes. Josh Allen is apparently the Bills' best rusher. Baker Mayfield has displayed franchise potential, and Nick Chubb has been absurdly good when fed the rock.
But there's a pair of rookies that might not be getting the headlines they deserve, and they're on the opposite side of the ball. It's a pair of linebackers, the Denver Broncos' Bradley Chubb and the Indianapolis Colts' Darius Leonard.
Bradley Chubb has been sensational on the attack for Denver. A pure rusher, Chubb has notched 12 sacks this season. It's a Broncos rookie record. At times, this defense has been overpowering. While the team won't be making a playoff appearance, the defensive pairing of Chubb and Von Miller should be entertaining for years to come.
Chubb even has a shot at the record for most sacks in a rookie season. That currently stands at 14.5 sacks from Jevon Kearse back in 1999. Dwight Freeney's rookie total was 13, while Leslie O'Neal and Simeon Rice stand at 12.5.
Even if Chubb doesn't add to his total, these are some exceptional names to be grouped with.
Darius Leonard is a guy that most casual football fans slept on, but he has been one of the leading forces behind the Colts defense that's now among the top-third of the NFL.
In case you haven't noticed, Leonard currently leads the league in tackles, well above names like Luke Kuechly and Telvin Smith.
More impressive still is that Leonard seems to be everywhere on the field, with seven sacks of his own, but is also deflecting passed in coverage and forcing turnovers.
Not to take anything away, but offensive rookies tend to get all the glory. Leonard and Chubb though, their level of play has been nothing short of stellar, and they should be frontrunners for NFL Rookie of the Year.
That was this week's edition of my football soapbox. Let's check out the ratings.
Moving on Up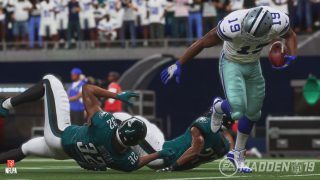 To simply say Amari Cooper fits the Dallas Cowboys offense is a drastic understatement. Dallas is 5-1 since Cooper's arrival, and he has had two monster games for them. He just dropped a 217-yard bomb on the Eagles, with three touchdowns to boot. Dak Prescott looks poised in the pocket again while Ezekiel Elliott faces less stacked fronts. The Cowboys are a balanced team with Cooper in town and are becoming extremely dominant at the right time.
Even if you take out Kittle's 85-yard touchdown, he still tallied 125 yards on six receptions. Kittle also had an 82-yard TD back in Week 4, and a 71-yard catch in Week 9. He's shown some explosion for the Niners and is slowly becoming a crucial part of their offense.
Another Colt, Autry has also been stepping up. Continuing what seems to be an ongoing theme this season, Autry is a former Raider that's been playing at peak performance lately. Over the last two weeks, Autry has put up five sacks, and gets a ratings boost.
Moving on Down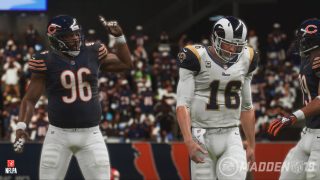 Until recently, Goff was in the mix of MVP talks. But in a big NFC matchup, Goff was underwhelming, throwing just 180 yards, completing just 20 of 44 passes, and throwing four INTs. The Rams remain a favorite going into the playoff race, but they're not going to beat elite defenses by losing the turnover battle.
This was a difficult loss for Pats fans to handle. At times, Michel has looked like the feature HB that New England was hoping for. But against Miami, Michel managed just 57 yards on 20 carries. That's only 2.9 yards a touch. That will send your ratings down a bit.

Let this sink in. Kirk Cousins threw for just 27 yards in an entire half. Ouch. Cousins and company started the season displaying a potent passing attack. That hasn't been the case recently. They now have the Dolphins up next, who just upset the Patriots. Cousins will need to rebound quickly if the Vikings are going to make a run.
–Daniel Williams (Follow Dan on Twitter @thatDanW)
---
Madden NFL 19 is available now. Stay in the conversation by following us on Facebook, Twitter, Instagram, YouTube, and EA Forums. Sign up for the Newsletter today to receive updates on Madden, and other EA news, products, and events, all season long.