The NFL trade deadline is fast approaching, and the story lines are flooding news feeds. Patrick Peterson wants out. The Saints traded for Eli Apple. Cowboys traded for Amari Cooper. Le'Veon Bell returned . . . oh wait. I guess he didn't. Never mind.
Point is, things are moving and shaking in exciting ways in the NFL. Well, that is for anyone that isn't an Oakland Raiders fan. But that's beside the point.
It was just a few weeks ago that I mentioned that Kansas City Chiefs QB Patrick Mahomes' main goal is to make the Madden ratings focus entirely on him. Well, he's succeeding at that. Mahomes and the Chiefs are making their case as the most explosive offense in the NFL. Mahomes looks as poised as an NFL veteran.
The only player making a better case for MVP right now is Todd Gurley, who is basically scoring at will at this point. These two seem destined to collide in the postseason.
Let's move on to the ratings.
Moving on Up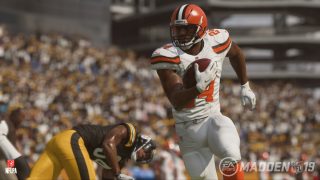 One of the trades that shook things up was the Cleveland Browns sending HB Carlos Hyde over to the Jacksonville Jaguars. The most immediate impact was that this opened up a bigger opportunity for the Browns' rookie rusher. He's shined so far when getting the touches.
It's nearly the mid-way point of the season, and Mahomes has been the best QB in the NFL by a wide margin. Picking apart defenses with his next-level arm has become just a normal part of the week for Mahomes as he continues his plan for world domination via Madden ratings.
Each week that goes by, the more involved Burton gets in the Chicago Bears' offense. A talented pass catcher, Burton is no long just a check down option, but a featured target. We might have only scratched the surface with this guy.
Moving on Down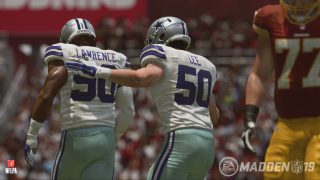 Lawrence was a Madden ratings darling last season, climbing the ranks throughout the year until breaking through into the 90s. This season, he hasn't shown the same level of intensity that sent him shooting up the ratings ladder. Dallas will need their defensive beast back on his game to turn around some of their troubles.
Well, that was a bad outing for Rosen. Shall we look at the numbers? He threw 21 completions, 194 yards, one touchdown, three interceptions, three fumbles, and was sacked six times. Yeah, that'll make your ratings drop.
Robinson is a physical receiver that drew comparisons to Dez Bryant early in his career. He was projected to be the target hog in Chicago. Instead, he caught just one pass for four yards against the New England Patriots.
–Daniel Williams (Follow Dan on Twitter @thatDanW)
---
Madden NFL 19 is available now. Stay in the conversation by following us on Facebook, Twitter, Instagram, YouTube, and EA Forums. Sign up for the Newsletter today to receive updates on Madden, and other EA news, products, and events, all season long.