We're deeper into the NFL playoff run now, following the crazy Wild Card round. A tipped Field Goal won it for the defending champs, the Cowboys and Chargers both won hard-fought games, and the Colts went into Houston and went up 21-0 in the first half.
But the pursuit of the Lombardi Trophy is nothing compared to the chase for improved Madden ratings. At least that's what I keep telling myself, so I can sleep comfortably. Leave me alone.
Enough of this. Let's look at some of players that moved up the ratings column following superb efforts in the Wild Card round.
There's no way around it, the Indianapolis Colts embarrassed the Houston Texans. On the score sheet, Luck finished with 222 yards, two touchdowns, and an interception. This is huge considering the Colts barely had to show up in the second half. After a long absence, Luck has returned to the NFL postseason in fine form and has also climbed his way back into the 90s in OVR. He's quickly reestablished himself as a go-to QB in Madden with great scores in accuracy and Throw on the Run.
Amari Cooper has been a standout in Dallas since being traded to the Cowboys. He tallied another 100-yard effort, something he's done five times this season. The only downside is all but one of those 100-yard games were at home. Cooper is now a top 15 WR in Madden NFL 19.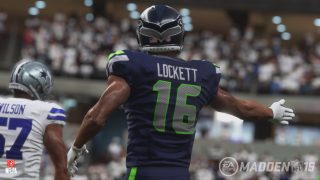 It may have been in a losing effort, but Tyler Lockett emerged as unique playmaker, providing some much needed depth to the Seattle WR group. In Madden, he can be a sneaky asset to use opposite of Doug Baldwin. An excellent returner with enough Speed to expose most DBs not focused on stopping Baldwin, Lockett will continue to grow as a crucial part of the Seahawks offense, and in Madden.
Remember last week, when I listed Leonard as one of the players to watch in the playoffs? Well, the defensive rookie powerhouse then went on to amass 13 tackles and a pass defensed. Leonard continues his insanely productive season against the high-powered Kansas City Chiefs this week. His Tackle rating has steadily climbed this year as Leonard further establishes himself as a future face of NFL defense.
Leonard isn't the only linebacker making massive waves on the field. Leighton Vander Esch is an essential cog to the Cowboys machine. His run stopping ability and knack for sniffing out plays helps the Cowboys stop drives, which only adds to their excellent ground game and clock control. He's taken strides as a ROLB in Madden, too, being the cornerstone defender for Dallas.
Granted, this list is a little Colts-heavy, but their win was more dominant than the score implies. With Indy moving to clock control in the second half, Mack feasted, rushing for 148 yards and a touchdown. This was while maintaining an average of 6.2 yards a carry.
– Daniel Williams (Follow Dan on Twitter @thatDanW)
---
Madden NFL 19 is available now. Stay in the conversation by following us on Facebook, Twitter, Instagram, YouTube, and EA Forums. Sign up for the Newsletter today to receive updates on Madden, and other EA news, products, and events, all season long.