We covered the season that was last week and discussed some of the biggest risers in Madden player ratings. The winners of the season in terms of OVR boosts were the Denver Broncos HB Phillip Lindsay and Kansas City QB sensation Patrick Mahomes. The season before, New Orleans Saints HB Alvin Kamara dominated the ratings ladder. The ratings reflect explosive seasons from players that are bursting onto the NFL scene.
Before we start talking draft talent and combine performances, there is some young talent already in the league that is on the verge of a major breakout. We could even see some of these guys hit the 90 OVR range.
With that, below are some talented players to look for next season that could make some big moves in the ratings.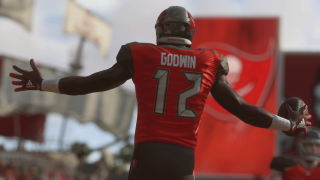 Recent memory of players like Mike Evans, Odell Beckham Jr., and Michael Thomas has instilled the idea that WRs come out of the gate hot and are immediate all-stars. Reality is, only a handful are productive in their early years before finally emerging as a key contributor. Chris Godwin has shown that potential in just his second year. Getting a starting role later in the season with DeSean Jackson sidelined, Godwin caught seven TDs, five of them against division rivals. He already has the base ratings of a solid WR, but where we will likely see improvement next season is his route running. Godwin is extremely versatile in that regard, so look for his OVR to climb as Adam Humphries is a free agent and it appears that DeSean Jackson wants out.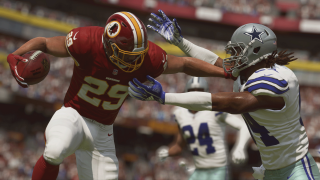 We didn't get too much of a look at Guice before a torn ACL cut his season short back in August. I mean, just look at this run:
Guice was getting Ezekiel Elliott comparisons before the NFL Draft, and it's absurd that someone of his talent wasn't snagged until the late second round. He's got power, quickness, and is elusive. As a rookie in Madden 19, Guice had exceptional base ratings, including a 90 Speed, 93 Agility, 84 Break Tackle, and 91 Trucking. This is all paired with an 85 in Stiff Arm and Juke. Even with Alex Smith at the helm, Washington leaned into a more run-heavy offense. Currently, the QB situation next season is a bit bleak in, so expect an even heavier ground game approach in which Guice will be a feasting on yards. He could be next season's big ratings leader in terms of OVR climb.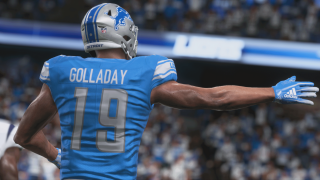 Perhaps the only thing that held Golladay back was an offense determined to feed LaGarrette Blount. The former third-round pick displayed excellent hands and instincts, showing future WR1 potential. His proven hands earned Golladay a ratings hike in all related categories, with Catching and Spectacular Catch both sneaking into the 90s. With size, speed, and sure hands already on his side, Golladay just needs a highlight juke or spin here or there and we should see him break into 90 OVR in no time.
– Daniel Williams (Follow Dan on Twitter @thatDanW)

---
Madden NFL 19 is available now. Stay in the conversation by following us on Facebook, Twitter, Instagram, YouTube, and EA Forums. Sign up for the Newsletter today to receive updates on Madden, and other EA news, products, and events, all season long.