After the Madden Competitive Gaming Division broadcasted a Twitch livestream to announce the Madden NFL 19 Championship Series in early August, I put a call out on Twitter for any questions prospective competitors might have. If you missed the stream, you can catch it here.
While many questions were answered during the broadcast, I still received a significant amount of inquires, some of which were very specific, but some which were as surface-level as "Where do I sign up?" or "How do I enter?" That inspired me to post this article, which I hope can be used as a reference point, or a beginner's guide, for anyone looking to get involved in competitive Madden this season, or for anyone who has asked themselves, "how do I play competitive Madden?"
Important MCS Links
Before we dive into your questions, here's a list of important links that contain information about the Madden NFL 19 Championship Series. Make a new bookmark folder in your web browser and save all of these!
Even Michael "Skimbo" Skimbo, one of the MCS's top competitors over the last couple of seasons, was out there in the Twitter streets, doing his part to help spread the word after the stream.
My main realization during all of this is that there are probably millions of Madden players who want to get involved in competitive Madden, but don't know where to begin. Let's start with the basics, and then we'll move on to some of your more specific questions.
The First Step in Competing: Register for Madden Rewards
If you don't have a Madden Rewards account, your online stats and results won't be tracked, and that's how you climb online ladders to qualify for different tournaments. Start there!
For the Madden Club Championship, online qualification is already underway.
You can compete it both MUT Salary Cap and MUT Champions online ranked modes until October 5. By placing in the top of your respective club leaderboard, you may be eligible to advance to the next phase of the competition on your way to competing at an NFL host city or at EA Headquarters.
Mailbag
Thanks to everyone who submitted questions. You can always reach out to me on Twitter @MattFranchise for more or hit up @MaddenLeagueOps. Hopefully, the answers you're seeking are below.
Yes! This can definitely be confusing since each event has its own qualifying rules. Let's focus on the Club Championship first. The image below has some important information on qualification details and the tournament's timeline.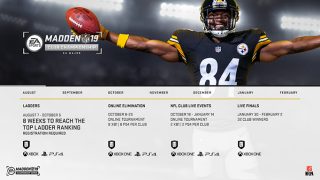 You'll want to refer to the Club Championship's official rules page here. You also have to register with an NFL team to represent in the tournament. Each NFL team has its own Club Championship site with key dates and locations pertaining to that specific club's tournament ladder.
Here is an excerpt from the official rules that should answer your specific questions about Club Championship qualification.
384 Competitors (192 on each Console) will be determined by the Salary Cap Ranked ("SCR") leaderboard. Invites will be sent to the top 12 eligible players (6 on each Console) for each of the 32 NFL Clubs between October 6 as of 12:00:01 a.m. PST. and October 16 as of 12:00:01 a.m. PST.
128 Competitors (64 on each Console) will be determined by the MUT Champions leaderboard. Additional invites will be sent to the top 4 eligible players (2 on each Console) for each of the 32 NFL Clubs between October 6 as of 12:00:01 a.m. PST. and October 16 at 12:00:01 a.m. PST.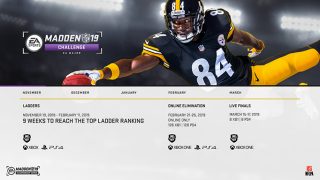 The Madden Competitive Gaming Division is still working on qualification details for the Madden Challenge. But what we can tell you is that the tournament is run via MUT Draft mode. Online ladders begin on November 19, 2018 and run through February 11, 2019, and the live finals for the event will be held on March 15 – 17. There are additional details in the image above and make sure you check back often for more information on the official rules page as it will be updated when we have more to share.
This is a great question. Keep in mind that there are different qualification rules for each EA Major MCS event.
For the remaining EA Majors (Madden Club Championship, Madden Challenge, and Last Chance Qualifier), online qualification is available. If you finish at the top of the leaderboard when the ladders close (see dates for each Major), you will receive an invite from maddenleagueops@ea.com with further instructions on how to participate in the online elimination. If you advance to the live finals of an EA Major, Madden League Ops will contact you directly to coordinate travel and hotel arrangements (see Section 4 of the official rules).
A perfect segue into our next question? That never happens!
The answer is yes! Leaderboards will be available on our website. Visit maddenchampionship.com in early September for more information. I might even do a leaderboard update blog throughout the season. Stay tuned.
There are different modes for each EA Major event. They are listed on our FAQ page, and laid out below for your reference.
–Matt Franciscovich (Follow Matt on Twitter @MattFranchise)
---
Madden NFL 19 launches August 10. Pre-order the Hall of Fame Edition for three-day Early Access and loads of MUT content. Stay in the conversation by following us on Facebook, Twitter, Instagram, YouTube, and EA Forums. Sign up for the Newsletter today to receive updates on Madden, and other EA news, products, and events, all season long.