This Madden 19 Club Championship Most Satisfying Moments column is brought to you by SNICKERS®. You're Off Your Game When You're Hungry. Eat A SNICKERS®.

Most Satisfying Twitter Moment
The champ gets a big-time shout-out

It doesn't get much more satisfying than this. The Oakland Raiders starting quarterback, Derek Carr, congratulated the Madden 19 Club Champion, Pavan "Pavan" Lakaht on Twitter following his triumphant victory. Pavan represented the Raiders in the tournament which came down to 32 finalists, one from each NFL team. He hoisted the MCS belt wearing a Carr jersey. Carr followed up by asking Madden's newest champion for a few tips.
Most Satisfying Madden Ultimate Team (MUT) Item Used
Power Up Michael Vick, Quarterback

The Madden Club Championship was a salary cap roster build format, so the competitors had to be strategic about which positions to splurge on, while also trying to find bargains along the way. One of the most-used items players spent on was the Power Up Michael Vick at QB, which when maxed out to 97 OVR cost $90 cap. Vick is basically the best quarterback in MUT and when fully powered up, he's in his own elite tier given his combination of mobility and throwing attributes. It's no surprise, then, that three of the four tournament semifinalists used a version of this item on their rosters.
Most Satisfying Trash-talk Game
Raidel "Echo Fox Joke" Brito vs. Douglas "Crush" Thiel
On Day 2 of the tournament, an AFC North showdown between competitive Madden veteran Echo Fox Joke and Crush escalated the trash-talk to new levels. Crush got out to an early 13-0 lead, and his confidence got the best of him as he started capping (slang for trash-talk). But Echo Fox Joke kept his composure and managed to battle back with 21 unanswered points. And you bet Joke was going to let Crush hear about it. Joke came away with a 27-20 win, and taught Crush a lesson after his way too early trash-talking.
Most Satisfying Tournament Upset
Tyler "TDavis" Davis upsets Shay "Young Kiv" Kivlen in Round of 16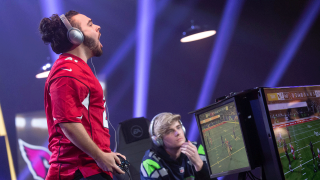 The final game of Day 2 was hyped to be a marquee matchup between the Madden 18 Bowl champion, Young Kiv, versus Arizona Cardinals Club Champion TDavis. TDavis jumped out to an early 10-lead, but Young Kiv fought back into contention, and from there the game built up to an intense finish. Young Kiv was driving, down 16-14 with just over a minute left. All he needed was to get into field goal range and burn out the clock, but he decided to throw a deep ball on a second down that TDavis picked off, and it was over. After the game, TDavis was mobbed by some of his fellow competitors as they celebrated the unexpected upset.

Most satisfying Big-name Matchup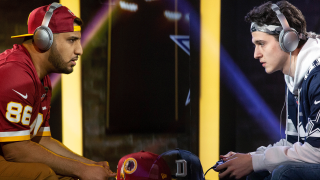 Arguably the best on-paper matchup of the tournament came on Day 3 when the tournament's defending champion, GOS, faced off against Madden 18 Challenge winner, Drini. The two MCS belt winners put on a show for fans as the back-and-forth game lived up to its billing. But with the game tied at 24 points each in the fourth quarter, GOS managed to take advantage of a couple of turnovers, and eventually pulled ahead, defeating Drini by a final score of 34 to 27. Since GOS advanced to the final four here, he also locked up as spot in this season's final tournament, the Madden Bowl.
— Matt Franciscovich (Follow Matt on Twitter @MattFranchise)

---
For more information on the Madden Championship Series and how to compete in future events, visit the Madden NFL 19 compete homepage. Keep it locked on the @MaddenLeagueOps Twitter handle for content, news updates, tournament coverage, and more.