Building an epic roster of NFL legends just got easier with the Madden NFL 19 Companion App.
A key component to Madden Ultimate Team is the Auction House, where users can acquire new items and earn coins for other items they've either doubled up on or simply don't use and that could bring in some value. Now you can master the ins-and-outs of the Auction House from your smartphone.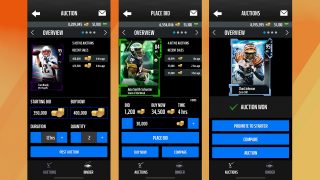 From the app itself, you can view your items and check out several aspects, including chemistry, ratings, and even the ability to compare items to others in your binder. You can also plug items into your starting lineup.
Post items in the Auction house and the menu will display helpful info like recent auctions and live auctions for that item. You can use that info to gauge the set price for that item, including the Buy Now price.
You can also check out your bidding history within the app if you're in a battle for a sick addition to your lineup.
---
Madden NFL 19 is available now. Stay in the conversation by following us on Facebook, Twitter, Instagram, YouTube, and EA Forums. Sign up for the Newsletter today to receive updates on Madden, and other EA news, products, and events, all season long.