The NFL is down to late four teams, and there's been big news heading into the next round of playoff matchups. I'm not talking about the Pittsburgh Steelers cutting ties with offensive coordinator Todd Haley. I'm not talking about Stefon Diggs last-second heroics or even the Philadelphia Eagles winning a playoff game without Carson Wentz.
I'm talking about the news that came out of Chicago this week.
Let's take a moment to marvel at this tweet. This is epic shade thrown at Aaron Rodgers. If Danica Patrick is that big of a Bears fan, then some might wonder why she'd date the QB for the Green Bay Packers. But if you look at his history against Chicago, he's clearly their owner.
Another epic tweet came from the Jacksonville Jaguars.
Well played Duvall County. Not only is it a great response to Mike Mitchell's comments, but you gave Madden a shout out. It's not only a sick burn, but 100% accurate. You can still play as your favorite team in Madden. (Insert shameless plug for Madden 18 here.)
On to the ratings!
Moving On Up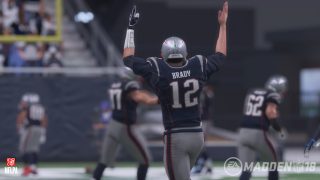 Tom Brady was doing Tom Brady things. The Patriots shut down Derrick Henry a week after he dominated the Chiefs' defense, and Brady went to work dissecting the Tennessee defense. The Pats will now face a loaded Jacksonville team. I wouldn't be surprised if the basic gameplan is the same against the Jags: slow down Fournette and force Blake Bortles to outscore Tom Brady. This defense is a real test to see if Brady can maintain his 98 OVR.
With the game clock ticking away, the normal thing to do would be to make a clutch catch and immediately get out of bounds to set up a field goal. But when Diggs turned and saw nothing but open space, he went for it. Diggs had a solid game before taking advantage of a missed tackle that's already been heavily meme'd. Combining that with the big catch and Diggs gets a boost in Awareness and Catch ratings.
Fournette was a beast against the Steelers, hammering in three touchdowns. He simply couldn't be stopped. If the end zone was within reach, he powered his way to it. He's going to be crucial in controlling the clock to try to keep New England on their heels. But for now, he continues to climb the Madden Ratings.
Moving On Down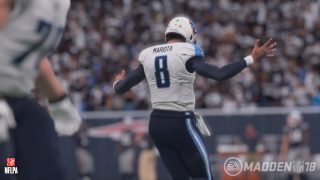 Mariota and the offense just couldn't keep the ball moving with Derrick Henry smothered. Plus, Mariota wasn't the most accurate at times, so he gets a ding to his OVR. But considering that he was sacked eight times, he didn't play too poorly through that punishment. Mariota is heading into yet another season with yet another head coach after the Titans and Mularkey parted ways. The Titans will be a team to watch this offseason.
- Daniel Williams
---
Madden NFL 18 is available now on the PS4 and Xbox One. Stay in the conversation by liking us on Facebook and following us on Twitter.