The 2017 NFL regular season is in the books. For a lucky few, your team has made the playoffs and continues their hunt for a championship. For most, you can sit back and enjoy watching games without stressing about your fantasy football lineup till next season. Congrats on the diminished chances of developing ulcers.
Before heading into Wild Card Weekend, there's a whole season of Madden player ratings updates to reflect on, some big surprises along the line, but also tremendous disappointments. Here, we take a look at some of the most notable players that shook-up the ratings board, for better or worse.
Biggest Surprises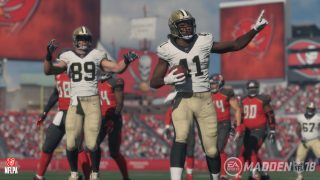 Kamara started the season with a decent 76 OVR. Not bad for a rookie. But with guys like Mark Ingram and Adrian Peterson above him in the depth chart, it didn't look like we were going to see much of what Kamara could do at the NFL level. One Peterson trade later, his reps increased, and we quickly witnessed the New Orleans Saints' latest offensive asset. Kamara is a big-time playmaker, and his Madden Ratings steadily climbed once he had the ball. That 76 OVR is nothing but a distant memory.
Hunt didn't take long to make his presence known. Officially the Kansas City Chiefs' starter after a Spencer Ware injury, Hunt began his career netting well over 200 total yards against the defending champs in the season opener. A midseason stumble prevented Hunt's ratings from going sky-high, as he battled some consistency issues. But with a KC playoff run in sight, Hunt returned to his early season form and finished the regular season as the NFL's leading rusher.
Looks like a little less Jeff Fisher is just what the doctor ordered. Talk of Goff being a draft bust started soon after a less than stellar rookie outing. But with a new coach, new offense, and a revitalized Todd Gurley, Goff put together a quality sophomore season. Gurley may be the team's MVP, but Goff drastically improved in the Madden ratings.
This is not something I thought I would say, but Case Keenum saved the Minnesota Vikings' season. He started the year as the Vikings' third-best QB in terms of OVR, behind both Sam Bradford and Teddy Bridgewater. After losing Bradford and running back Dalvin Cook early in the year, it looked like the Vikings were going to struggle to generate points. But Keenum rallied the team, producing an efficient attack backed by Minnesota's stout defense.
Surprising Letdowns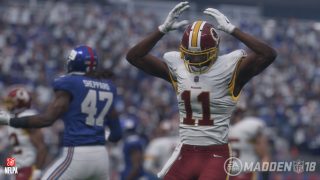 Pryor emerged as a viable wide receiver last season in Cleveland with his first 1,000-yard year. He went to Washington with the look of their top WR, but was given a prove-it contract with just one year. Looks like he'll have to settle for another one-year deal, as he totaled just 20 catches, 240 yards, and a single touchdown before landing on IR. Pryor's lack of production led to a drastic decline in Madden ratings.
Tons of hype surrounded the Raiders' season. Overall, it was a rough season where the team rarely looked cohesive. Carr wasn't the only problem, but made questionable decisions on the field. There were still flashes of what Carr can do, but his ratings suffered after a season to forget.
This was a rookie campaign Ross won't want to remember. Ross remains the fastest player in Madden NFL 18 with a 98 Speed. He wasn't on the field much due to injury issues, but when he was on the field, he showed little. His Awareness rating dropped significantly this year after Bengals' coach Marvin Lewis called Ross out for giving up on plays. If you're playing a franchise and are looking to trade for a speedster, you're better off trying to get Tyreek Hill or Will Fuller.
This one hurts. Murray started the year as the fourth-best running back in the game. At a 91 OVR and quality catch ratings, Murray was one of the more balanced backs you could utilize. However, he managed only a single 100-yard game, and that one thanks to a 75-yard run. Murray's ratings suffered, dropping all the way to the low 80s before getting banged up. If Derrick Henry has any success in the playoffs, it's possible Murray is on a different team next season.
- Daniel Williams
---
Madden NFL 18 is available now on the PS4 and Xbox One. Stay in the conversation by liking us on Facebook and following us on Twitter.